University Center for Teaching and Learning
How to assign extra credit in canvas, extra credit overview, create a new assignment, add extra points to an existing assignment, fudge points, adding extra credit to the rubric.
Assigning extra credit may take some getting use to because there is no place within the assignments settings that you check to make the assignment worth extra credit. Yet, because of this, Canvas gives a lot of flexibility in how extra credit can be given to students.
Ways to Add Extra Credit
Create A New Assignment Using Assignment with No Submission
Using a Rubric
For specific information on how to add extra credit using the above methods, see the following Canvas Instructor Guide: How do I give my students extra credit?
*Note – You can add extra credit manually by downloading/exporting your Gradebook to Excel. This will be down in the Grade Override Column and to be completed at the end of the course, when entering final grades.
Keeping that in mind, the biggest determinant of how you set up your extra credit in Canvas is whether you are using a points-based gradebook or a weighted gradebook. A Points-Based Gradebook allows for the most flexibility in offering extra credit. The tabs above include ways to add extra credit for Point-Based Gradebooks.
Note: Adding extra credit to a Percentage-Based Gradebook does not work that well in Canvas. In general the best way to add extra credit to a percentage based gradebook is to NOT ADD EXTRA CREDIT UNTIL AFTER ALL OTHER COURSE GRADES ARE ENTERED INTO THE GRADEBOOK (including the final exam). Extra credit WILL NOT calculate correctly until ALL OTHER COURSE GRADES ARE ENTERED. This is because by adding the extra credit the gradebook is going over the normal 100%. You can add extra credit by adding an Assignment Group (category) for "extra credit" and make it worth the percent you would like the overall course grade to be raised if students get the full amount of extra credit.
Navigate to your course Assignments Page, and add a new assignment worth zero points. Make sure that the submission type is either "no submission" or "paper submission," and click Save & Publish to create a column for this extra credit "assignment" in your Gradebook. If you are using a point structure and do not have weighted assignment groups, follow these steps.
Click Assignments in the course navigation
Click +Assignment
Type the Assignment Name (for example, Extra Credit)
Type 0 for Points
Choose No Submission for the Submission Type
Click Update Assignment
Click Publish
After students complete the work, manually add points in the Gradebook.
Click Grades in the course navigation
Navigate to the new assignment (Extra Credit)
Type the points for those students receiving extra credit
Adding extra points to an Assignment you've already created you will need to manually enter the extra points in the Gradebook.
In this example, the assignment is worth 40 points. Adding 5 extra points will bring the assignment total for this student to 45 points. The added points will increase total points calculated in the Gradebook's final grade.
You can use Fudge Points to add extra points to a quiz. Fudge points allow you to manually add or remove points from a student's overall quiz score.
Click Quizzes in Course Navigation
Click on the quiz you want to add extra points to
Click SpeedGrader
In the Student drop-down menu, select the name of the student that you want to give extra points to
Enter the number of points you want to add to the overall quiz score in the Fudge Points field at the bottom. The Final Score shows the final score this student will receive.
Click Update Scores to save the change to the student's quiz score.
*Note – Fudge Points can only be added to Quizzes.
If you use a rubric to grade an assignment, you could make an additional criterion to the rubric for extra credit. Make sure the rubric is worth more points than the assignment so when you give students extra points it doesn't affect the actual assignment points. For additional information on creating a rubric, please check out the Canvas Guides
Diversity Awards
Generative AI Resources for Faculty
Teaching surveys
1-on-1 Teaching Consultations
Canvas and Ed Tech Support
Reporting a classroom problem
Requesting equipment for your classroom
Not sure what you need?
Accessibility
Center for Mentoring
Creating and Using Video
Diversity, Equity and Inclusion
General Pedagogy
Graduate Student/TA Resources
Remote Learning
Syllabus Checklist
Student Communication and Engagement
Technology and Equipment
Classroom & Event Services
Assessment of Teaching
Classroom Technology
Custom Workshops
Open Lab Makerspace
Teaching Support
Need something else? Contact Us
Educational Software Consulting
Faculty Learning Communities
Makerspaces and Emerging Technology
Mentoring Support
Online Programs
Teaching Surveys
Testing Services
Video/Media Services
Assessment and Teaching Conference
Diversity Institute
New Faculty Orientation
New TA Orientation
Teaching Center Newsletter
Meet Our Team
About the Executive Director
Award Nomination Form
Award Recipients
About the Teaching Center
Annual Report
Join Our Team
You're signed out
Sign in to ask questions, follow content, and engage with the Community
Canvas Instructor
Instructor Guide
How do I give extra credit in a course?
Subscribe to RSS Feed
Printer Friendly Page
Report Inappropriate Content
in Instructor Guide
Note: You can only embed guides in Canvas courses. Embedding on other sites is not supported.
Panda Bot (beta)
Panda bot is coming soon, view our top guides and resources:.
To chat with Panda Bot, you need to log in to the Community.
You can ask Panda Bot how to use Canvas, Mastery, Elevate, and Impact products. It can help you find info from our guides and summarize info about the products.

How do I add extra credit in Canvas? (Instructors)
Dec 9, 2022 • kb solution, information, an assignment with zero points, how grades are calculated.
Navigate to your Canvas course.
Select Assignments from the course navigation.
Select +Assignment .
Enter in an assignment name.
Enter an assignment description.
Set the Points field to 0 .
Select a group from the Assignment Group field.
In the Submission Type field, select No Submission if you are not collecting student assignments (e.g. participation, oral presentations, etc.) or Online and check the submission options if students will submit an artifact.
Enter a due date and select Save and publish .
(Optional) Add the extra credit assignment to a module by following these steps: How do I add course content as module items?
Navigate to the assignment and select SpeedGrader .
Enter positive points in the Grade field.
Click the right arrow to navigate to the next student.
A Weighted Extra Credit Assignment Group
Setup with existing weighted assignment groups.
Select Assignments .
Select +Group .
Enter "Extra Credit" in the Group Name field.
Enter the extra credit percentage points possible in the % of total grade field.
Press Save .
Select +Assignment from the top of the page.
On the assignment page, enter a Title and Description .
Enter the points possible . Note that the assignment cannot be 0 points.
Set the Assignment Group to Extra Credit (or the name you entered in step #4).
Change the Submission Type to Online if you want to collect student work. Use No Submission for extra credit not tied to an electronic submission (e.g. participation, discussions, oral presentations, attendance, etc.).
(Optional) Enter a Due Date and Availability Dates in the Assign box.
Press Save & Publish .
Setup without Existing Weighted Assignment Groups
Create assignment groups.
Repeat steps 3-5 for each assignment group (e.g. Participation, Homework, Exams, Discussions, etc.) in your course, replacing "Extra Credit" with your other group names. Note that these groups should align to what is outlined in your syllabus if applicable.
Click and hold the two columns of dots in front of each assignment. Then drag each assignment into the appropriate group.
Add an Extra Credit Assignment to the Extra Credit Group
Add weights.
Click the three-dot menu beside the +Group and +Assignment buttons.
Select Assignment Groups Weight .
Check the box in front of "Weight final grade based on assignment groups."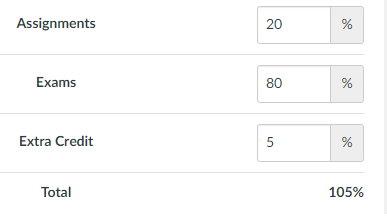 Related Resources
Add extra points to an existing assignment
Add fudge points to a quiz
Create extra credit within a rubric
Add extra points using a rubric in SpeedGrader
Search Utah State University:
Create an extra credit assignment.
Extra credit is currently not a default option in Canvas. However, you can give students extra credit using a variety of options. Below we will discuss how to create an Extra Credit assignment by giving them a point value of 0. We will also discuss how to create extra credit assignments through Assignment Groups. There will be an additional list of resources at the bottom of this page that will explain more methods on how to award your students extra credit.
Each method has its limitations, so it's important that you determine which method works best according to your needs.
On This Page
Zero Point Value
Assignment groups, additional resources.
This method involves creating an assignment that has a point value of 0. Then, once the assignment has been completed by your students, going in and manually changing the grade accordingly. If you have weighted assignment groups, this will give extra credit to whichever group the assignment is located.
Create an assignment
Give the assignment a Point Value of 0
Complete the rest of the necessary information
This method doesn't have any restrictions on which submission type you choose. If you have weighted assignment groups, select which group you would like to place your assignment in.
Have your students complete the assignment
Manually give your students points in the gradebook
You do this by simply going to the gradebook, locating the column that contains your extra credit assignment and adjusting their scores accordingly.
You can award your students extra credit by creating an assignment group and assigning it a designated weight. You do this by making your extra credit assignment group exceed the 100% total sum and placing your assignments within that group. 
If you place multiple assignments within an extra credit group, it's important to note that the grades of all of those assignments will get aggregated together. To avoid this, you can create multiple assignment groups with one assignment placed in each. 
When using this method, it is recommended that you make each of the extra credit assignments worth 0 points until the end of the semester. This Instructure forum page best explains why.
Below is how Canvas calculates the weights in assignment groups.
Standard Grading Approach: (Points Earned / Total Points Possible) = Total Score (as percentage) Weighted Grading Approach: Where En = Points earned in assignment group n, Pn  = Total points possible in assignment group n, Wn ­= Weighting for assignment group n, as decimal (e.g. wn = 25% = .25) (( E1 / P1 ) * 100)W1 + ((E2 / P2 ) * 100)W2 + … + ((En / Pn) * 100)Wn = Total Percentage 
Grading With Assignment Groups
Create an assignment group
Enter a Group Name and a desired % of the total grade , then click  Save
Create a new assignment
If you already have the extra credit assignment created, move it into the new group.
Give the assignment a Point Value of 0 until you near the end of the semester
You may want to notify your students that they won't be able to see the effects of the extra credit until the end of the semester. Again, this Instructure forum page explains why (under the Note: ).
Edit the Point Values accordingly at the end of the semester
5 Keys to Grading
Extra Credit for Individual Quiz Questions
Instructure Community - How do I give extra credit in a course?
You are using an outdated browser. Please upgrade your browser to improve your experience.
How Do I Create an Extra Credit Assignment in a Weighted Gradebook?
Canvas has no native extra credit delimitation, but there are workarounds for instructors who choose to provide extra assignments instead of allowing students to simply repeat the assignment they missed.
Extra credit doesn't appear to work properly unless there are graded items in each assignment group in the course. In fact, if a student does poorly on the extra credit assignment, it will actually appear to lower their grade, but technically it doesn't—this is explained in more detail below. Extra credit makes the total add up to more than 100%, so the weighted total for all assignment groups would add up to 103%, for example. This allows students to complete 100% of the course material, and then an extra 3% if needed or desired. This also means you may see some ambitious students in your gradebook with 102.41%, but such a grade is as much of an A as a 93%.
The issue that students have happens when "extra credit" points are being added before each assignment group has a grade in it. So if the student gets a bad grade on the extra credit assignment, it makes it appear as if their grade is going down. If every assignment group has a graded item in it, and then the extra credit points are given, even if it is a 1/10, it will always raise the grade.
The other issue happens when there are multiple extra credit assignments in a group; for example, a student gets a 10/10 on the first one, but a 5/10 on the second one. This also makes it seem like their grade is dropping. If they do poorly in an extra credit assignment, their total grade will drop by 2% or so until everything else in the gradebook is graded (usually at the end of the semester). With only the first assignment counting towards the extra credit weight, they had a 100% in that group. But getting a 5/10 on the second gives them a total of 15/20, which is a 75% of the extra credit total.
This whole situation can scare students into believing that by doing extra credit work, that it is permanently lowering their grade. These students may also lose confidence in you as a competent teacher. To avoid such theatrics, there is a way to "hide" these grade changes.
# Our Recommendation
Our recommendation is to put all extra credit assignments in a single assignment group, with all the proper point values on the assignments individually, and until every other assignment group that contributes to the 100% of the grade total has a graded item in it, leave the extra credit assignment group worth 0% .
The student can do the extra credit assignments any time, but won't see any effect on their grade while the group is worth 0%. Once everything else in the gradebook is graded , the instructor can change the weight of the extra credit assignment group, and the students will only see a positive grade change (if they actually completed it). This would typically happen at the end of the semester or block.
You can also create a separate assignment group for each extra credit assignment and make the total percent of that group equal to how much the assignment is worth. (Remember, the percent for each group should be set to 0% until all other assignment groups have a graded item in them.)
How Do I Recover Deleted Items?
Search Teaching Support and Innovation
Teaching support and innovation menu, teaching support and innovation.
Request Services
Individual Consultation
Media Support
Online Exam Center Proctoring
Technology Assistance
Unit-level Training, Facilitation and Support
Graduate Employee Teaching Support
Browse Resources
Engage Community
Upcoming Events
Teaching Core Education
Reading Groups
Improve Curricula
Annual Program Assessment
Closing the Loop
Program Learning Outcomes
Core Education Assessment
Core Education Assessment Plan
Core Education Learning Outcomes
Research & Assessment Projects
TEP Staff Directory
UO Online Staff Directory
News & Events
Assigning Extra Credit in Canvas
There may be times when you'd like to offer extra credit to your students. While there is no explicit "extra credit" option available in Canvas, this How-To outlines a few options for giving extra credit points.
The three options here will serve a majority of need cases. If you have a more complex extra credit need (for example in classes with both undergraduate and graduate students or on quizzes) please contact Canvas Support as outlined below.
Option 1: Adding Points to an Existing Assignment
When giving points to students on graded assignments in the Gradebook, you can add the extra credit points directly to their score.
Locate the assignment in the Gradebook, click on the score area for the student you want to give extra credit to and update the score points.
In the example at right, the student has been awarded 2 extra credit points for a final score of 7 out of 5.
NOTE: this option will not work for assigning extra credit on Quizzes. Please contact Canvas Support for assistance with extra credit on quizzes.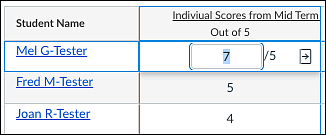 Option 2: Create an Extra Credit Assignment
This option works well if you are using a point structure and not using  weighted grades.
Create an assignment called "Extra Credit" [1]
Assign a point value of Zero [2]
Make the submission type No submission [3]
You do not need to set a Due or Until date
At the end of the term, manually assign points to students for this "assignment" in the Gradebook.
Option 3: Weighted Assignment Group
This option works best in courses that are using a weighted Gradebook. Create an Assignment Group named "Extra Credit."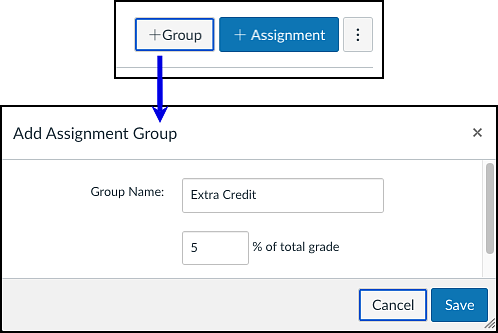 Assign the weight for this group making sure that the overall grade percentage goes over 100%.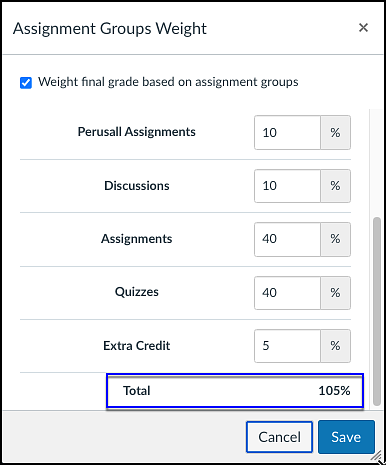 For further assistance, UO Online & Canvas Support is available.
In-Person: Room 68 PLC  
By phone: (541) 346-1942  
By email:  [email protected]   
Submit a  Service Portal Ticket  ( opens in a new tab ). This form can also be accessed in Canvas from the  Help  button at the bottom of the  Global Navigation Menu .