Ask a Question
Write a Blog Post
Login / Sign-up
Personal Insights
What is Account Assignment Category in SAP MM, How to configure?
This Blog Post will give the overview on what is Account Assignment Category in SAP MM and How to configure it within SAP system. I will explain configuration step by step in SAP configuration.
This article will guide you through step by step procedure and will give you the complete idea on usage of Account Assignment Category and Item Category.
Account Assignment Category:
It indicates what type of purchase the company is doing in Purchasing Documents, whether it is for consumption or anything relation to orders, projects etc. The nature of this also indicates which accounts it needs to be charged for when the incoming invoice and Goods Receipt are posted.
Depending on the requirements you can create customized ones as well. Select one line item and click on the icon (with the magnifying class). Or if you want to create one Hit the "New Entries" icon.
Certain configuration needs to be maintained for a particular account assignment category and the screen selection. Below image shows the configuration and screen selection..
The above screen will pop-up to maintain the configs. For now, lets consider K- Cost Center
So, for "K" only GL Account, Cost Center needs to be mandatory i.e. user need to specify the respective value for this and for rest can be maintained as optional/hidden/display.
In the detailed Information tab, we can see certain options
assg.changeable (Account Assignment Changeable) – It indicates whether the specified Account Assignment category can be changed in Goods Receipt/Invoice Receipt or not.
Consumption Posting – It specifies whether the goods that are procured are used for which purpose like for personal usage or for a project. Some options include Consumption, Asset, Unknown, Accounting via Project/ Sales Order
For example , let say you need to buy 300 chairs for IT dept but HR dept also needs 200 chairs. So, you will create a purchase order for 500 chairs with Account Assignment Category 'K'. If distribution is configured than you can split the qty in 300 – 200 and assign them to their respective GL Account/ Cost Center in Purchase Order. Since each department would be having it's own Cost Center.
Account Modification – IT indicates what GL account it will be posted through the Account Determination
acct.assgt (Derive Account Assignment) – If this is configured for an account assignment category, then the GL account and Cost Center will be pulled automatically by the system. (Pre-requisite: In Acct Modification whatever value is maintained for that a corresponding GL account should be defined in Tcode OBYC) This can be used for both materials having MMR or without MMR.
ID: AcctAssgt Scrn (Account Assignment Screen) – Defines whether it is a single or multiple account assignment.
After this we have certain checkboxes like Goods Receipt/ Invoice Receipt – Defines whether Goods Receipt will be relevant or not for the items created with this account assignment category.
After completing all the steps you can create the Purchase Orders using an Account Assignment Category.
So here we complete the configuration about the Account Assignment Categories.
Let's move to what combination of Account Assignment and Item Category is allowed in Purchasing document.
It is a mapping between the Item Categories and Account Assignment that indicates what are the relevant and correct combination that can be used in purchasing document.
Okay, now you might be wondering what are item category?
Item categories are defined to provide additional control functions for the documents to meet the demands resulting from different business transactions.
Basically it has the same functions as of Account Assignment but with a different set of usage.
There are different Item categories configured in system. You can define/create them here
The above are some standard Item category defined by SAP, but always open to create a custom one as per the requirements.
Here I complete the detailed explanation of Account Assignment,  Item Category & it's configuration in SAP MM.
Please do provide your valuable feedback on this post in comments section, this will help me in improving my content and share more knowledge with this community, also you can follow me for more content related to SAP!
Till then Happy learning!
Assigned Tags
Nice thanks for sharing
Share Right click and copy the link to share this comment
Hi Garvit, i guess new Item categories can't be created and only those provided by standard system to be used.
Insert/edit link
Enter the destination URL
Or link to existing content
Account Assignment Categories and Document Types for PR in SAP
How to assign categories and document types for purchase requisition.
The following training tutorials guide how to assign account categories and document types for PR. You can assign categories and document types for PR by using one of the following navigation methods.
SAP IMG Path : – Project system >> material >> procurement >> Account Assignment Categories and Document Types for Purchase Requisitions
Transaction code: – OPS8
Refer below step by step procedure to assign account assignment categories to document types for purchase requisition in SAP.
Step 1: – Enter transaction code "OPS8" in the SAP command field and press enter key.

Step 2: – On material flow in the network overview screen, click on new entries to assign categories and document types

Step 3: – On new entries of the Account assignment screen, update the following fields.
Procurement: – Update the three digits alpha-numeric id that identifies the procurement indicator and updates the descriptive text.
Priorities: – Priorities control various stock types, for example, you can set priority project to 1, priority plant to 2, and priority sales to 3.
Control data: – Control data control the purchase requisition network, third-party material is delivered to customers, and preliminary purchase requisitions.
Default item category: – Update the default item category for the item category MRP (Material Requirement Planning)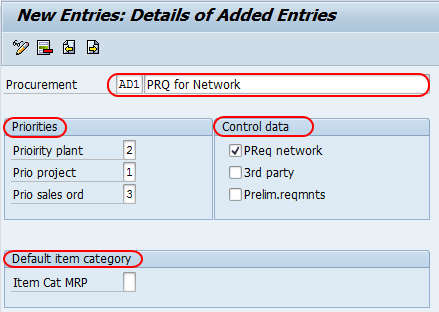 After maintaining the required details Account Assignment Categories and Document Types for PR Click on the save button to save the configured data.
Continue to read SAP PS Tutorial with real-time scenarios.
SAPMMFRIENDS.BLOGSPOT.COM
Tuesday, february 26, 2013, account assignment category in sap mm.
Which accounts are to be charged when the incoming invoice or goods receipt is posted
Which account assignment data you must provide
When entering an item on the item overview screen, specify the account assignment category for the item.
Choose Item ® Account assignments.
Enter the account assignment data that is dependent on the account assignment category.
If additional information is available on a specific account assignment, the More field is displayed.
If you wish to enter further items with the same account assignment data, choose Acct. assgt. on . The account assignment data will then automatically be adopted in the next item.
Branch to the item overview and repeat the process if necessary.
Save the purchase order.
How the net value of a PO item to be distributed is (apportioned) among the individual account assignment items?
How are the costs to be apportioned if only a part of the ordered quantity has been delivered and invoiced?
When entering an item, specify the account assignment category for the desired item on the item overview screen.
To do so, choose Item ® Account assignments.
Enter the account assignment data for the first account assignment item.
In the item fields (upper part of this screen) enter the relevant data:
For each account assignment item, enter either the quantity or the percentage of the total value to be charged to the relevant account assignment item.
Repeat as necessary for other items.
4 comments:

Good article

Amazing blog thanks for sharing Wonderful information

Thanks for sharing this blog. finance guest post

Thank you for your post. This is excellent information. It is amazing and wonderful to visit your site. And I would like to share some information about virtue solutions. www.virtuesolutionsonline.com
Post a Comment
Condition type with fixed value and percentage / How to use a Condition Type for Multi Calculation Types
Requirement: Percentage and Amount both Calculation Type options should allow for a condition type during the purchasing.   Solution: ...
SAP MM Interview Questions & Answers for Freshers Source: http://www.atoziq.com    1 . Introduction to SAP MM 1.       What is SAP? How is it used in industries?                   ...
Free SAP MM tutorial with screenshots Currently this Post Changes in Progress