Top 10 Keyword Research Tools for SEO Article Writing
by Greg Secrist | Apr 22, 2023 | Content Marketing | 4 comments
Search engine optimization (SEO) is an important part of the digital marketing mix. It is one of the most reliable ways to increase your brand's organic visibility online. This has the added benefit of multiplying the impact of other channels. When your business is easy to find, your marketing efforts are more effective. From on-page optimizations to SEO article writing, a good strategy can give your brand a valuable boost.
Keywords are at the heart of all SEO optimization. These words and phrases are how you can target certain search terms that your audience may enter into Google or another search engine. Finding the best keywords to suit your strategy and budget takes time, effort and research. Whether you hire a full-service consultant, buy keyword articles or do it all yourself, understanding keywords and how to find them can help you better guide your brand's marketing.
Fortunately, you can find many SEO keyword research tools to help you choose the best keywords to include in your content writing, meta tags and more. Of course, picking through all the SEO research tools out there to find the right one for your needs can be difficult. That's why we're here to help.
The Top 10 SEO Keyword Research Tools (According to Us)
The following 10 SEO article writing tools are among the best available for keyword research. There is no option that is the right choice for everyone in all circumstances. Nonetheless, if you use any of the following, you will be setting your SEO keyword research off on the right foot.
SEMrush is a comprehensive suite of SEO article writing tools for researching keywords and analyzing competitors. It is one of the most popular SEO research tools on the market because of the in-depth data it delivers.
If you want to learn which keywords you are currently ranking for, you can search your URL in SEMrush's organic research tab. On this page, you can see the traffic you are earning and an estimated value of that traffic. Additionally, you can click to view your positions for different keywords. This will let you know how effective your SEO article writing and other activities are. You may also discover new keywords that you are ranking for without targeting.
The same works for examining competitor's websites. This is a great way to find some keywords that you wouldn't have otherwise considered.
You can also get a keyword gap report. This shows you keywords that many of your competitors are ranking for but that you aren't currently targeting.
Pros : SEMrush has a lot of features, including some very in-depth insight such as keyword difficulty. It is also easy to get started with simple reports, such as the keyword gaps.
Cons : SEMrush's SEO research tools don't come free. The Pro plan is the most budget-friendly and starts at $83 per month if billed annually.
Verdict: This should be a top consideration for anyone who isn't sweating every penny of the SEO budget. It offers a lot and can be the linchpin of a mature and effective SEO strategy. For 20% off of annual plans, you can sign up for SEMRush here .
2. Google Keyword Planner
Google Keyword Planner is almost the total opposite of SEMrush. It is very simple, with only limited features. However, it is available completely for free provided that you have an AdWords account.
This SEO keyword research tool benefits significantly from being produced by Google. It is one of the most accurate sources of information about keywords and SEO on the market. Even the most expensive paid tools struggle to offer the same level of precise information.
Using the keyword research tool, you can get suggested keywords based on ones you may already be using. You can also research keywords to see insights such as keyword search volume. If you intend to also use your SEO keywords for a paid ad campaign, you can get an estimate of the necessary bid to get your ad seen.
Pros : Google Keyword Planner is highly accurate with the few features it offers. It is also available for free for anyone with an AdWords account (which is also free to create).
Cons : This tool is relatively bare bones. Nearly all research tools can offer the same features and more.
Verdict: For anything beyond the most basic SEO strategy, you will likely need something more feature-rich than Google Keyword Planner. Nonetheless, it is so accurate that you could use this SEO article writing tool in conjunction with others to help plan your SEO keywords.
3. Serpstat
If you want more than just keyword research, Serpstat should be on your radar. It is a full SEO suite that combines keyword research, website analytics, SERP analysis, rank tracking and more.
Compared to similar SEO research tools, Serpstat is more oriented to individual page analysis. You can define missing keywords on a page-by-page basis or for an entire URL. It has tools for analyzing competitors as well as seeing how your pages are ranking. The unique "tree view" helps you find the search terms for which have nearly reached the top 10 search engine results page. This can help you refocus your article writing.
One of the best features in Serpstat is its filter. You can set parameters to drill down your research and find exactly what you are looking for. SEO keyword research can often involve a lot of data, so having this effective filtering functionality is very helpful.
Pros : Serpstat has a great user interface and a lot of functionality. The pricing starts at $55 per month when billed annually. This is relatively affordable among paid SEO research tools.
Cons : The site audit functionality does not offer many unique insights. It also does not have any tools for social media data.
Verdict: Overall, Serpstat offers a lot for a good price. Its keyword analysis is particularly good.
4. Majestic
Majestic is another full-suite SEO tool. It helps you track your site's search engine health over time.
It includes keyword functionality in the most basic plan. The more advanced options have special features for bulk research and API integration.
You can research competitors on individual keywords. It also highlights keywords and phrases that you could easily target. Many users appreciate the backlink history tools (Pro and API), custom reports and the keyword checker.
This is an excellent choice if you want to do more than just keyword research. It can help you with everything from planning your content writing to optimizing your backlinks.
Pros : Majestic has a lot to offer, including a particularly strong onsite analysis report. It also provides very easy-to-use keyword research tools.
Cons : Some users have reported missing data on some SEO reports. Additionally, anyone wanting to use the API may struggle with its reliability.
Verdict: Starting at under $42 per month, Majestic has a lot to offer at a reasonable price. However, it is more difficult to get started with than some other tools. Some prior expertise may be required.
5. Keyword Tool
For delving into keywords, this is one of the best keyword research tool options available. The very aptly named Keyword Tool can offer in-depth insights into keywords. Unlike with many of the other tools on this list, you can easily view reports for Google, YouTube, Amazon, Bing, social media and more.
In a sense, Keyword Tool is like an upgraded version of Google Keyword Planner. It does not have a full set of SEO research tools. However, it focuses almost exclusively on keyword research and does that very well.
The user experience is very simple. Additionally, you can get up to 750 keywords for free. The pro version offers even more results and more in-depth data. Using the Google Autocomplete API, Keyword Tool will suggest dozens or hundreds of long-tail keywords for a given topic. It also uses Google Suggest to find other relevant keywords.
Pros : This is one of the most user-friendly SEO article writing tools on the list. It is also very focused on keyword research. If you need keywords to fuel your SEO article writing, this may be the tool for you.
Cons : It is weak on competitor analysis, and the Pro Basic plan does not include cost-per-click data. Additionally, it is relatively expensive for the number of features.
Verdict: Starting at $69 per month, Keyword Tool is surprisingly expensive for its feature set. However, it has some of the best data within its limited scope.
6. Long Tail Pro
Increasingly, long-tail keywords are becoming the darling of the SEO world. They tend to be less competitive and are more likely to convert than shorter keywords. Long Tail Pro focuses on this trend. It is a great way to find high-value keywords to incorporate into your content writing.
Long Tail Pro offers valuable SEO research tools for niche keywords based on seed keywords. The metrics provided are detailed and useful. The program also offers smart recommendations to help you find high-end organic traffic sources. Long Tail Pro can perform over 2,500 SERP look-ups per day.
The user interface is well-designed and easy to understand. Overall, this tool provides a great user experience for both advanced and novice users.
Pros : You can get keyword suggestions in bulk with useful scoring. The data is very accurate and easy to use.
Cons : There are limits to the amount of research you can do. The pricing is based around this and starts at $207.90 per year.
Verdict: This is a valuable SEO research tool if you want to delve into long-tail keywords. Few tools are as user-friendly and as effective for this subset of SEO.
As the name suggests, SpyFu is focused on analyzing competitors and their SEO strategies. It is widely considered to be one of the best keyword research tools for this purpose. If you are working in a saturated niche, SpyFu will help you uncover valuable and relatively untapped keywords to target.
SpyFu is accessible enough for average users to jump in. However, it also has sufficient data and detail for advanced SEOs to use. Additionally, it offers ongoing site monitoring.
This article writing tool isn't limited to SEO. It also has some valuable insights for PPC ads and variations on campaigns. Let your competitors optimize your campaigns for you by analyzing their work and finding gaps that you can exploit. It is like letting other businesses do your search engine marketing testing for you.
Pros : SpyFu offers a deep feature set, valuable reports and good support. It also starts at a reasonable price ($33 per month billed annually).
Cons : It is less optimized for independent keyword research. If you aren't looking at competitors, this tool may fall a little short.
Verdict: This is an excellent choice with a lot of value for its price. It is especially well-suited for businesses in competitive spaces.
Ahrefs is generally viewed as one of the top SEO research tools for professional search engine optimizers. Given that the name is a reference to HTML code, it is probably no surprise that this tool is a little more technical than some of the others on this list. Nonetheless, once you have the hang of it, Ahrefs has a lot to offer.
The data reported by Ahrefs is very accurate, and the scoring provides valuable insight. Additionally, there are helpful metrics for improving click-through rates. You'll also find in-depth SERP analysis to help you locate keywords that are easy to improve.
Like many other suites on this list, Ahrefs does not offer its keyword explorer separately. Instead, you will get access to the entire set of Ahrefs tools. These include site audits, site explorer, rank tracker and more. There is even a content explorer to help you optimize your content writing.
Pros : Ahrefs has among the best feature sets in the business. There is an immense amount of data to mine and analyze.
Cons : The keyword tools are limited in the lowest tier plan. Additionally, Ahrefs does not hold users' hands. This requires some time to learn.
Verdict: If you buy articles from an experienced SEO team, there is a reasonable chance they are using this tool. It is the go-to for a good reason. However, it is not the best option for beginners. Pricing starts at $82 per month billed annually.
9. KWFinder
KWFinder is all about finding keywords. (What a surprise!) It has fewer features than some of the other SEO research tools on this list. Instead, the developers chose to focus almost exclusively on keyword discovery. For this job, it is a very good tool.
As you start your SEO article writing, KWFinder can help you to discover useful keywords with detailed suggestions and ad hoc searches. It also provides SERP-specific tools that will empower you to discover how to improve your rankings.
This is a good tool for competitor keyword analysis. It includes filtering that will eliminate keyword results that aren't going to be profitable for you.
Pros : The keyword tools are very strong and provide plenty of actionable and useful information. You can explore keyword variants, long tails and domain keywords.
Cons : If you ever want to expand beyond keywords, this is not the right tool for you. It has limited features for anything beyond keyword-specific queries.
Verdict: For planning the keywords in your content writing strategy, this can be a great choice. With pricing starting at under $30 per month, it is affordable. Just don't expect a full suite of features.
10. Moz Keyword Explorer
Moz has firmly established itself as a go-to resource for learning about SEO. Many people use their guides to help start their first SEO article writing efforts. So, it is probably no surprise that the Moz Keyword Explorer delivers some excellent functionality.
This SEO article writing tool offers two unique data points that set it apart from some others on this list. The first is the organic CTR score. This is a relative scoring of the number of clicks you can expect to receive. The second is the priority score. By combining and analyzing factors such as CTR, volume and difficulty, Moz provides scoring to help you find the best terms for your needs.
Users can get started with Moz Keyword Explorer for free with 10 queries per month. Upgrading to Moz Pro, starting at $99 per month, will provide significantly more queries (up to 30,000 for the top plan).
Pros : Moz Keyword Explorer provides some very helpful metrics that aren't available elsewhere. Additionally, the Moz Pro plan comes with many other features.
Cons : Moz is relatively expensive compared to others on this list. It is also not quite as intuitive as a few competitors.
Verdict: You won't go wrong with Moz if you have the budget for the pro version. This is a great SEO research tool backed by some of the top experts in the field. It can help fuel your SEO article writing strategy.
Implement Your Content Strategy With SEO Article Writing Tools
Once you have done the research to plan out your content writing strategy , you are ready to start putting it into place. Use these SEO research tools to help you find, create and monitor the keyword phrases you want to target in your campaigns. Consistently creating high-quality blogs, articles and other SEO optimized content can help you realize the full potential of your keyword research. In many cases, it is a good idea to buy articles from expert writers to get the best possible results.
BKA Content provides SEO article writing services that will help you create and execute an effective strategy. Contact us today to learn more about our services and how we can help your brand thrive online.
Top 10 Link-Building Strategies for Content Marketers - July 12, 2023
8 Types of Ecommerce Content You Should Start Using - May 15, 2023
The Benefits of Blogging for Businesses - May 14, 2023
Company Culture
Health Care
Real Estate
Social Media
AP Style Basics
Apostrophes
Collaboration Corner
Commonly Confused Words
Figures of Speech
Writing Tips
Miscellaneous
Write for BKA
Want to Increase Traffic by 15X?
Boost traffic , leads , and sales with our NEW monthly SEO blog writing service.
Privacy Overview
Did you know we write awesome content?
Let us save you time and money by creating the content you need! Give us your email to learn more.
Thanks! We'll send you information shortly.
PMG has merged with Conveyor Marketing to bring you an expanded breadth of marketing services. Our new name is Conveyor Marketing Group. Click here for details . Learn more about Conveyor Marketing.
What's Inside
Content & SEO
Website Performance
Lead Generation
Buyer Enablement
Sales Alignment & Enablement
Customer Success
WHAT'S INSIDE...
Account-Based Marketing (ABM)
Paid Search/Social
Conversational Marketing
Reporting & Analytics
Implementation & Training
Management & Support
CRM Setup & Consulting
Service Hub Setup & Consulting
CMS Management
Migrations & Integrations
Branding & Messaging
Content Creation
Website Development
Video Production
Planning & Strategy
Distribution & Promotion
Content Audits
Content for Campaigns
How to Do Keyword Research for Content Marketing
Is the keyword dead?
This is a question we've been discussing for months. The answer? Absolutely not. As organic clicks steadily decline due to the addition of SERP features like Featured Snippets and People Also Ask, it has never been more important to make keyword and topic research the foundation of your content strategy in 2020.
How do you do keyword research the right way?
In this article, we review why generating qualified organic traffic is harder to generate then it used to be. Then, we outline the steps you should be taking to develop a targeted keyword strategy that draws more qualified traffic to your site.
How to do keyword research for content marketing
1. Identify your topics
2. Break your topic down into supporting terms
3. Research variations using suggested terms tools
4. Add all your suggested variations to a spreadsheet
5. Research even more variations using suggested terms
6. Get monthly search volume and competition metrics
7. Use your data to identify low-hanging fruit terms
8. Type these terms into Google
Organic clicks are declining.
With the emergence of featured snippets and other SERP attributes—in addition to paid advertising space, we are seeing the top organic search results get pushed further and further down the search results page.
And that's not all: if searchers find their answer directly from the search result page, why even bother clicking through to the supporting content?
For example, let's consider the search phrase "What time is it in Germany". In 2015, you would have clicked through to the first result listed—timeanddate.com. Today, Google generates the time right on the results page (as seen below).
With the query fully answered in this SERP feature, there really is no need to click through to any website that would provide the same information.
MozCast is updated in real-time to help you see just how many of these features are appearing in search results. Here's what that landscape looks like as of today:
What does the increase of SERP features mean for your organic search ranking?
With more and more of the SERP being filled with features like videos, tweets, and knowledge panels, the need to click through to get answers is eliminated in many cases. In fact, we've seen organic traffic drop steadily over the past 12 months with respect to several keywords for which our own agency organically ranks in the number one position.
In fact, our most popular blog post— 9 Tips That Get More People to Subscribe to Your Email , which has always performed well for us—has seen a drop of over 1,000 monthly views since January of 2019. All despite that the page still ranks in the #1 organic spot for several target keywords related to email marketing!
What's particularly strange is that other metrics like bounce rate, time on page, submissions, and attribution to new contacts have not been impacted in the same way. Surprisingly, the average amount of time spent on the page has gone up from three minutes to nearly five...
This steady drop in traffic is something that had us puzzled. If the same amount of people are still performing searches on this topic every month, and we own the first organic result, why is traffic to the post declining?
Well, here's a possible explanation. We may be able to attribute this drop in traffic to the SERP feature that has been being populated using information from our page.
It's possible that those searchers that are just looking for quick inspiration may simply feel satisfied with the insights in the list provided directly on the SERP.
In fact, we've seen traffic drop for core content pieces for many of our clients, despite the organic rank remaining the same. In almost every content example we researched, there was a SERP feature that summarized the answer to the query in the SERP.
Here's what OrbitMedia has to say about this trend:
61% of mobile searches lead to SERPs that don't get clicked (up 6% over the last 2.5 years) and a third of desktop searches are no-click (up 3%). There are 5.6 billion Google searches per day , which means roughly 250 million fewer visits to websites each day. So this is the mega-trend in SEO: more features on search results pages and therefore a lower click-through rate to websites .
Moreover, since Q1 of 2016 there has been a decline of nearly 20% of clicks . In other words, that's ⅕ less click opportunity for Q1 of 2019, only a short three years later.
But there is a light at the end of the tunnel! According to Jumpshot and SparkToro , 41.45% of clicks still go to organic non-google sites, which is nearly 12 times higher than clicks to paid search ads—at just 3.58%
But that big gray block of 48.96% of zero-click searches can be reasonably attributed to the increase of on-page SERP features. That's an enormous amount of lost opportunity for sites wanting to prioritize attracting organic traffic.
Should we give up on organic SEO?
This is clearly a trend that will continue. As Google tries to serve visitors answers with fewer clicks and keep visitors engaged with it's own results page, it can feel a bit unfair . Why bother trying to rank organically when clicks are dropping by 20% or more? How can small and mid-sized businesses create a successful content strategy when half the click opportunities are taken by mega-sites and Google is serving up SERPs for the rest?
For the pep talk we all needed , I invite you to watch this video about this traffic trend by Rand Fishkin. Listen to him discuss the importance of SEO for modern marketers at 21:30.
TLDW; The two conflicting truths for modern marketers... #1: It's never been harder to earn organic traffic from the web's major players. And #2: It's never been more important to make your website (and email list) the center of your campaigns.
The good news is: you can use strategic keyword research to increase your chances of searchers clicking through to your content instead of a ranking competitor's.
We can't fight Google, and we also can't afford to not follow these trends. Why? Because if our competitors rank better, they're still going to get more qualified traffic. So here are the steps you can take to dramatically improve your chances of ranking.
1. Identify your core content topics.
It's not enough to simply write about a topic that we think is important to our website visitors. First, take a step back and think about the bigger picture.
What is it that you want your company to be known for? What are your organization's areas of expertise? Those topics are probably going to be heavy-hitting generalized terms. For B2B companies from a variety of industries, this might look like:
Automated Storage and Retrieval Systems
Digital Transformation
Outsourced Marketing
Call Center Quality Assurance
Start by trying to identify your "one thing". What is it that you help people do? That's probably going to be your primary topic. And yes, it's possible to have more than one! For example, we rank for outsourced marketing services but we also want to be known for HubSpot consulting, lead generation, and website design, to name a few.
These topics would ideally fit into a larger topic cluster and pillar content strategy. Here's a post that discusses this in more detail.
This first step is critical because every piece of content you create for your website, blog, or social channels should be a thoughtful brick that reinforces the structure of your topic. Becoming an authority on your topics through highly-targeted supporting content is one of the best ways to boost your organic traffic.
2. Break your topic down into supporting terms.
Once you've determined your topic, it's time to break that down into its core pieces and variations. Think of your supporting terms as the foundational beams that support your topic. Because chances are, there is a ton of organic competition surrounding your core topic.
Unless you're a mega-site, your chances of ranking for your core topic term is slim. Instead, you want to find low-hanging fruit variations to attract qualified traffic.
We discuss how to identify low-hanging fruit keyword terms later in this post.
To give you a concrete example, let's pretend you work at a veterinary clinic that focuses on dog health. Here are some examples of topic cluster terms: CORE TOPIC (Pillar):
SUPPORTING TERMS (The nitty-gritty of what you sell/do):
TEETH CLEANING
WEIGHT LOSS
PHYSICAL THERAPY
ALTERNATIVE MEDICINE
NEW PUPPY SHOTS
SPAY/NEUTER
You get the idea. Treat this list as a total brain dump of related terms.
PRO TIP: Need inspiration? Interview your customers. Talk to them about their pain points. Ask them about the time before your product or service came into the picture. Find out how their life or job has changed since purchasing. And frankly, ask them about the words and phrases they would type into Google to find you . You can also ask your sales and service teams for insight. They talk to potential buyers every day. Don't just assume you know what terms you want to rank for.
3. Research variations using suggested terms tools.
Now, what we like to do is give each of these supporting terms their own tab in a google sheet. Here is where we are going to house all our research categorized by supporting term.
Here are some great keyword suggestion tools:
Answer the Public
Keword Tool
Moz Keyword Explorer
Ubersuggest
And don't discount the power of using Google itself for suggested terms. This is a great approach if you're restricted for time or budget.
Start by typing your keyword into Google. What suggestions appear in the drop-down?
Here's what is suggested when we type "dog diet" into Google's search bar:
And for even more variations, complete a search and scroll to the bottom of the SERP to see suggested or related terms to try:
One of our favorite resources is Answer the Public —for its user-friendly export features and visualization tools. This tool is ideal for people who complete keyword research every once in a while . While AtP is easy to use and offers a lot of free features, it does not offer as much insight into search metrics and competition as some of the other tools we've tried.
Here are some of the results we generated by entering "dog diet" into Answer the Public's suggestion tool:
what is a balanced dog diet
what is the mountain dog diet
what is prescription diet dog food
what is a bland dog diet
what is the ideal dog diet
what is a hypoallergenic dog diet
what is a natural dog diet
This simple term generated more than 467 suggested keyword variations. We highly recommend exporting all these variations and adding them to a spreadsheet—which brings us to our next recommended step...
Another great tool we use daily is SEMrush's Keyword Magic tool . This tool is ideal for those whose primary role is to develop and execute content strategy . Why? Because the Keyword Magic tool populates suggested terms - just like Answer the Public - and also provides you with:
Monthly search volume
Search trends over time
Keyword difficulty metrics (how hard is it to rank for this term?)
The CPC (cost per click)
The number of SERP features appearing for that term
And the number of search results
Here are the results for Dog Diet from SEMRush. This tool generated over 18,000 keyword variations.
4. Add all of your suggested variations to a spreadsheet.
As we've seen in our example, a simple term can generate anywhere from 20 to thousands of suggested terms. And while the majority of the suggested terms would each make a nice blog post, we need to first determine which search terms have the most search volume.
PRO TIP: You may not want to ignore low-volume search terms. Many SEO experts believe that qualified traffic can still be generated from targeting long-tail keywords with little to no monthly search volume. Even though these terms don't generate enough traffic to register 10+ searches per month, if you rank for them, you can still draw highly-qualified traffic to your site over time. This is especially true if the long-tail keyword you choose is particularly relevant to your business model or solution.
That's where our spreadsheet comes in, acting as an organizational guide to house our keyword variations.
We like to organize our spreadsheets by topic, giving each subtopic its own tab in the spreadsheet. This enables you to reference the spreadsheet in the future when you're writing or brainstorming content about those topics.
Here's what that looks like in action:
(Also, can we just take a moment to appreciate the suggested term: can dogs have diet pepsi? No. The answer is no.)
5. Research even more variations using suggested terms.
Sometimes your research will inspire a completely different content direction. For example, a lot of keywords in our research about dog diets generated variations about how to best care for dogs that have food allergies. Due to the amount of recommended terms for this topic, we can assume this is a great content channel for this topic.
You really can't have too much data, so use your spreadsheet as a complete content dump. Then, let the data show you what your priorities should be.
6. Get monthly search volume and competition metrics.
Paid tools like Moz Keyword Explorer and SEMrush can help you generate monthly search volume and competitive data quickly and easily.
If you don't have access to some of these specialized paid tools, have no fear. Google's Keyword Planner is still considered a go-to for marketers that already have access to Google Ads Manager.
Whichever tool you use, you'll want to enter all your keyword variations collected from your sheet to your search volume generator.
If you're using Google's Keyword Planner, first select "Get search volume and forecasts"
Then, paste the keyword variations from your spreadsheet into the tool. Once the report generates, select export and then choose to export "Plan historical metrics (.csv)"
This will generate a report that shows you the search volume and competitive metrics. You can organize the spreadsheet by terms that have the highest search volume to get an idea of what terms are generating the most traffic.
Once you have search volume data for all your variations sorted by highest search volume, you're ready to start identifying content opportunities.
7. Use your data to identify low-hanging fruit terms.
A low-hanging fruit keyword is one that has a high search volume and a low competition rating. This is the ideal keyword to design targeted content around because there are a lot of people searching for it, but very few high-authority sites writing about it.
In our example, "bland diet for dogs" is the perfect search term because 4,400 people are searching for it, but it has a competitive rating of only 7!
PRO TIP: Don't be discouraged by a very high competitive rating. Most tools use inbound links alone to determine competitive ranking. Meaning: they assign higher competitive value for terms that have results with the most inbound links. But inbound links don't make a content piece great! If you're going after a high-value term, just make sure you do your research to write the best content for that search query.
Highlighting terms that represent your low-hanging fruit is an easy way to quickly identify content opportunities as you put together your plan.
8. Type these terms into Google.
The next step is to make sure the term really is going to be relatively easy to rank for. The best way to do this is to simply type the term into Google. Then research:
What websites are ranking for this term?
How is that content formatted?
Does the content that is ranking fully answer the question or address the searcher's needs?
Is there a SERP feature for this term?
Are there websites with high domain authority to which you could pitch a guest blog post?
Use your findings to build a targeted editorial content calendar that will allow you to hyper-target these keywords—by creating content that answers the search term better than anyone else. These terms then become part of your larger SEO strategy.
Read: How to Create an SEO Strategy Without Becoming a Content Factory
Bonus Tips: Generating more traffic to your pages...
When it comes to content optimization, here are a few suggestions for putting all your keyword research to good use. You can drive more qualified traffic to your pages by:
Write content that targets featured snippets . If there isn't a snippet already in existence for a particular query, try to write a new blog post or update and optimize an older post to target the SERP feature.
Craft and test compelling content titles and meta descriptions. The meta description is what shows up beneath the title of the page when you scroll through search results (provided there is a high-quality meta description). Combined with the right headline, you're more likely to entice people to click.
Write using language that resonates with your audience. Keep in mind the style and tone that your audience prefers when it comes to content consumption. You almost always win when you prioritize your buyer personas over the search engines.
Drive qualified traffic to your pages through paid search campaigns. If you need a little extra boost to kick things off, paid ads can be your friend.
Create varied content types. This might include presentations (.ppt), ungated crawl-able white papers (.pdfs), videos, infographics, case studies, reports, image galleries, and more.
If you have any questions about keyword research, SEO, or content strategy, we are all ears! Just leave a comment below or contact our team for more information. And feel free to subscribe to our blog and/or monthly newsletter for a regular serving of B2B marketing tips!
About the Author
Kate Moore is a Content Strategist by day, HubSpot expert by night. When she's not getting distracted by her many fans (ahem – work emails and phone calls), she's hunkered down, plugged into Spotify and writing about stuff that will make your work with HubSpot smooth and simple.
Tags: SEO
Boston, MA |
Richmond, VA |
New York, NY |
Atlanta, GA |
Morristown, NJ |
Baltimore, MD |
Cleveland, OH |
Miami, FL |
New Delhi, India |
Houston, TX |
Dover, NH |
Philadelphia, PA
Privacy Policy |
Terms Of Services |
© 2023 Precision Marketing Group, LLC
A Guide to Keyword Research and Article Creation
Knowing where to start when it comes to writing an article that performs well on Google can be difficult... We love writing long-form content and we want to share our tips for writing articles that are optimised for Google's search engine.
The world of content creation is very saturated and in order for your content to stand out from the competition you need to be knowledgable about the best SEO practices to implement. 
In this article we explore the main things you should consider when researching, planning and writing SEO content to make sure it ranks well in Google's search engine results. 
Choosing an article topic that's geared to rank on Google
First thing's first, what to write about? 
This will depend on your content niche and your business, and what's happening around you at that moment in time.
Perhaps there is a current affairs topic that you want to share your thoughts on. For example, recently there has been a lot of talk surrounding artificial intelligence and it's role in the creative industry . This could be an interesting topic to write about no matter what your industry.
Or, is it close to Black Friday and you have some thoughts to share on this? The possibilities for topic choices are endless and it can be difficult to choose but if you look into current trends this might help you come up with some ideas.
Other places to find content topic inspiration are websites such as marketingweek.com , copyblogger.com , and marketingexamples.com . It is a good idea to make a list of topics that are broader and do some research around those, then narrow down your topic area. 
Once you have a rough idea of what you want to write about, you can research more into your topic using many different tools - you might want to use a tool like Buzzsumo to do this. It's also important to learn what content is already out there and how you can write something that's both relevant and will outperform competition. 
A simple search on Google can give you an idea of what is already out there for your topic. A handy section of Google is the area at the bottom of the search results page which shows other topics people have searched for. These can help guide your content process because you will have an understanding of related search terms and subtopics.
Make sure that the topic you choose has a purpose, what are you trying to achieve by writing this article? How is it going to help other people?
Top tools for topic and keyword research
Topic and keyword research are vital parts of any article creation process and every SEO marketer knows that they need to prioritise this when planning any article.
There are tonnes of SEO tools that can help you with topic and keyword research - paid and free - and it's important to leverage a mixture of both. When it comes to topic research, it's important to understand the bigger picture and then get more specific with your keyword research.
Google processes over 70,000 search queries a second. So, in order to beat the rest and feature at the top of the SERP, you need to prioritise these important aspects before putting pen to paper.
Here are some of our favourite tools to get you started...
Google Trends
Google Trends is great for, you guessed it, trending topics.
This can be helpful if you want to create a piece of content which is relevant to current affairs and trends. This tool is also incredibly insightful to gauge what topics people are showing more interest in now compared with previous years. 
For example, the search term 'ai' has gained significant interest in the last year, showing that we are generally more interested in this topic now than we were 2-5 years ago. This presents an opportunity to create content in this area, given you find a gap in this seemingly saturated topic - more on this later. 
Answer the Public
A useful tool is Answer the Public . Input a broad search term and this tool will show you related phrases and topics that are being searched on Google. It presents them in different formats such as questions and prepositional starters.
Use this tool to give you ideas for subheadings to use in your article so you're covering all of the frequently searched related queries on Google. 
It's a good idea to them use a tool like Semrush to check the search volumes and competition of those keywords - more on that below.
Semrush gives valuable insights into keywords and topics. In Semrush, use the keyword magic tool to search keywords related to your topic. You can see intent data, competition and related search terms, helping you filter down the focus of your article. It provides access to as much data as possible on any keyword or domain you input into their system.
Some of the features of Semrush that are important to this stage are: keyword magic tool, keyword gap analysis and keyword overview. The keyword magic tool offers an incredible insight into many different niches and the keyword gap tool is great when you're researching your competitors (more on this later).
There is also a content template tool which can help you gather useful links and sources of information that can be relevant to your article. 
Ahrefs is another tool widely used for keyword research and it provides a broad range of keyword data. Through Ahrefs, you can access tools such as: keyword explorer, content explorer and rank tracker.  It offers similar insights to Semrush but in not as user-friendly a way.
UberSuggest
Another popular tool is UberSuggest which has similar functionalities to Semrush - in fact, we've compared the two . You can access similar data points to that of Semrush, unlocking SEO content ideas.
Wordstream also have a free keyword tool which is simple but worth checking out. It does however only provide content for the United States and the options once you have typed in your keyword are quite limited. There isn't nearly as many features or data on this platform as there is on the previous three mentioned above.  
Tackling competitor analysis for an SEO advantage
Competitor analysis is important so that you can create content with a high possibility of  outranking your competitors in the search results and also to be aware of what your competitors are doing. 
Many tools offer the option to type in the URL of your competitor's website and they will provide you with information about their keywords and how they rank in Google's search results. 
The example below was taken from Semrush where we searched 'creative ai'. This brought up the top 10 URLs with organic rankings and allowed us to get under the hood of each one, seeing the related keywords they also rank for. This gives us an opportunity to explore the content on their site and consider how to outrank it - is it too short? Not informative enough?
Competitor analysis is an important stage in the article writing process because it allows you to gain a strong insight into the keywords used by top ranking domains and as a result, tweak your writing to include keywords that will outrank them in the search results. 
Keyword gap analysis is an important step in the competitor analysis stage because it allows you to see what your competitor is ranking for that you are not. Once you have an understanding of this and what's going on on their end, you can take a look at what type of content they are creating and consider how to alter yours.  
How to select the best keywords
Once you've chosen your tool, you need to start the research process. Type in any keywords and you will be presented with lots of data points; search volume, trends over time, competition, difficulty, cost per click, the list goes on.
When choosing the keywords to include in your article, you should consider the difficulty level. If you choose keywords which have a high level of difficulty, it will be more difficult to outrank your competitors - not only will you need to ensure your content was longer, more relevant and higher in quality but also that your webpage experience is better, your DA is higher and that you source backlinks to your article. As you can see, many factors affect rankings, and they're taken even further into consideration for the most popular and competitive keywords. 
However, if you rephrase keywords or extend them to make a long tail keyword, you could have a higher chance of outranking your competitors. In the industry, we refer to high volume, low competition keywords as low-hanging fruit - those you can more easily pick and see results for.
Planning your article that's geared to rank on Google
Creating a plan for your articles is a vital part of the process.
With the data from above, you can start to outline your article, focusing on your H1 (article title) H2s (subheadings) and then H3s-H6 depending on the level of depth your article goes in to. Use the most appropriate keywords to guide the structure of your article.
Brainstorm headings that include keywords with not too high level of difficulty, and subheadings to explain each section. This is also particularly helpful if you are drafting a plan but are passing it onto a colleague to complete, that way your thoughts and writing process are clearly explained.
Pull together any important screenshots and links from your keyword site of choice and get them into a document. Also, add in any other useful content and links that you've used in your research process. It's always good to have them on hand for inspiration when it comes to writing. 
Writing your SEO-friendly article!
So, you've done your due diligence:
Topic research
Keyword research
Competitor research
Planned your article outline using headings and subheadings
Collated useful links and information
Now, it's time to write...
This part can be straightforward if you've planned well. When it comes to writing, it's important to consider that Google also prioritises content that is well-written, flows and doesn't have any grammatical errors. So always spell-check and proofread everything. 
Formatting your document correctly is also important because Google will be able to read the content which has been correctly formatted more successfully. Make sure headings and subheadings are selected as H1, H2, etc. in your content uploader. 
Also, it's vital to understand that you should be writing content that is useful and valuauble for other people. If your content doesn't have a specific purpose, Google will not see the value of your content, pushing it lower down in the search results. 
Another tip for your article overall is to not 'keyword stuff', this is when you add your keyword so many times that the article becomes overwhelming and makes the reading experience difficult. You must incorporate keywords naturally into your article and bear in mind that Google is becoming more and more human every day, so it's not all about repeating your targeted keyword 165849347 times but to also use semantically related keywords that show your expertise and awareness of a topic as a whole. 
When it comes to the word count, usually it's the longer the better for SEO, but only if the content is relevant, purposeful and useful - there's no point in waffling aimlessly for 5,000 words! It is said that around the 2,000 word mark works generally, but this varies by industry and content type .
The importance of SEO fields in article writing
After writing your article, it's important to check that not only have you produced engaging long-form copy, but you've also prepared the copy for various SEO fields; adding a page title, meta description and alt tags are important so that Google can more clearly understand your content when crawling your website. 
Page title 
The page title is the first thing that a human sees when they are searching for something in Google - it's the blue clickable link that displays on Google SERP. It's also the first thing that Google reads.
The more relevant to what people search for, the better. We all visit Google in search of answers, so make your titles answer the questions and you will be rewarded with higher rankings on the search engine results page.
It's also worth noting that your page title is different to the H1 heading of your article. The page title is limited to 60 characters so as not to be truncated on Google, so a shorter, snappier version of your H1 should be used here.
Meta description 
The meta description is a short summary of, or introduction to, your article. It helps Google see, at a glance, what your content is about - it's limited to 160 characters so get practising your summarising skills!
A meta description is important because it helps Google understand what your article is about at surface level.
Adding alt tags to your images will ensure that any readers who are visually impaired can understand what is in each picture, and Google will be able to digest the images more successfully too. 
It's also a great way of getting your articles to appear in Google Image search results.
Ready to rank on Google?
So, we've seen that a lot needs to go into the process of writing an article; choosing a good topic and carrying out in-depth topic research, then understanding your competitors through competitor analysis and keyword research and finally writing a good piece of content which will be of value to your audience.
With the right amount of work, good quality research and access to top tools, you can write content that ranks highly in the Google search results page.
But, if all this sounds like a lot of hassle, let us do the hard work for you ! Our results speak for themselves!
Just a heads up, some of the links in this article may be affiliate links, meaning we may make a small commission on any sign-ups or purchases for the tools we recommend.
Partner with Beyond for your website and marketing needs! Get Started .
Ready to transform your online presence?
How to Do Keyword Research for SEO: A Beginner's Guide

Updated: August 24, 2022
Published: January 07, 2022
While Google keeps us on our toes with all the algorithm updates they keep rollin' out, one thing has stayed pretty consistent for inbound marketers looking to optimize their websites for search: keyword research.
In this post, we'll define what keyword research is , why it's important , how to conduct your research for your SEO strategy, and choose the right keywords for your website.
What is keyword research?
Keyword research is the process of finding and analyzing search terms that people enter into search engines with the goal of using that data for a specific purpose, often for search engine optimization (SEO) or general marketing. Keyword research can uncover queries to target, the popularity of these queries, their ranking difficulty, and more.
Why is keyword research important?
Keyword research helps you find which keywords are best to target and provides valuable insight into the queries that your target audience is actually searching on Google.
The insight that you can get into these actual search terms can help inform content strategy as well as your larger marketing strategy.
People use keywords to find solutions when conducting research online. So if your content is successful in getting in front of our audience as they conduct searches, you stand to gain more traffic. Therefore, you should be targeting those searches.
In addition, in the inbound methodology , we don't create content around what we want to tell people; we should be creating content around what people want to discover. In other words, our audience is coming to us.
This all starts with keyword research.
Conducting keyword research has many benefits, the most popular reasons being:
Marketing Trend Insight
Conducting effective keyword research can provide you with insights into current marketing trends, and help you center your content on relevant topics and keywords your audience is in search of.
Traffic Growth
When you identify the best fitting keywords for the content you publish, the higher you'll rank in search engine results — the more traffic you'll attract to your website.
Customer Acquisition
If your business has content that other business professionals are looking for, you can meet their needs and provide them with a call to action that will lead them into the buyer journey from the awareness stage to the point of purchase.
By researching keywords for their popularity, search volume, and general intent, you can tackle the questions that most people in your audience want answers to.
Keywords vs. Topics
More and more, we hear how much SEO has evolved over just the last 10 years, and how unimportant keywords themselves have become to our ability to rank well for the searches people make every day.
And to some extent, this is true, but in the eyes of an SEO professional it's a different approach. Rather, it's the intent behind that keyword, and whether or not a piece of content solves for that intent (we'll talk more about intent in just a minute).
But that doesn't mean keyword research is an outdated process. Let me explain:
Keyword research tells you what topics people care about and, assuming you use the right SEO tool, how popular those topics actually are among your audience. The operative term here is topics — by researching keywords that are getting a high volume of searches per month, you can identify and sort your content into topics that you want to create content on. Then, you can use these topics to dictate which keywords you look for and target.
Keyword Research Template
Build your SEO strategy with this free template.
Search Volume
Keyword Difficulty
You're all set!
Click this link to access this resource at any time.
Elements of Keyword Research
There are three main elements to pay attention to when conducting keyword research.
1. Relevance
Google ranks content for relevance. This is where the concept of search intent comes in. Your content will only rank for a keyword if it meets the searchers' needs. In addition, your content must be the best resource out there for the query. After all, why would Google rank your content higher if it provides less value than other content that exists on the web?
2. Authority
Google will provide more weight to sources it deems authoritative. That means you must do all you can to become an authoritative source by enriching your site with helpful, information content and promoting that content to earn social signals and backlinks. If you're not seen as authoritative in the space, or if a keyword's SERPs are loaded with heavy sources you can't compete with (like Forbes or The Mayo Clinic), you have a lower chance of ranking unless your content is exceptional.
You may end up ranking on the first page for a specific keyword, but if no one ever searches for it, it will not result in traffic to your site. Kind of like setting up shop in a ghost town.
Volume is measured by MSV (monthly search volume), which means the number of times the keyword is searched per month across all audiences.
How to Research Keywords for Your SEO Strategy
I'm going to lay out a keyword research process you can follow to help you come up with a list of terms you should be targeting. That way, you'll be able to establish and execute a strong keyword strategy that helps you get found for the search terms you actually care about.
Step 1: Make a list of important, relevant topics based on what you know about your business.
To kick off this process, think about the topics you want to rank for in terms of generic buckets. You'll come up with about 5-10 topic buckets you think are important to your business, and then you'll use those topic buckets to help come up with some specific keywords later in the process.
If you're a regular blogger, these are probably the topics you blog about most frequently. Or perhaps they're the topics that come up the most in sales conversations. Put yourself in the shoes of your buyer personas — what types of topics would your target audience search that you'd want your business to get found for? If you were a company like HubSpot, for example — selling marketing software (which happens to have some awesome SEO tools ... but I digress), you might have general topic buckets like:
"inbound marketing" (21K)
"blogging" (19K)
"email marketing" (30K)
"lead generation" (17K)
"SEO" (214K)
"social media marketing" (71K)
"marketing analytics" (6.2K)
"marketing automation" (8.5K)
See those numbers in parentheses to the right of each keyword? That's their monthly search volume . This data allows you to gauge how important these topics are to your audience, and how many different sub-topics you might need to create content on to be successful with that keyword. To learn more about these sub-topics, we move on to step 2 ...
Step 2: Fill in those topic buckets with keywords.
Now that you have a few topic buckets you want to focus on, it's time to identify some keywords that fall into those buckets. These are keyword phrases you think are important to rank for in the SERPs (search engine results pages) because your target customer is probably conducting searches for those specific terms.
For instance, if I took that last topic bucket for an inbound marketing software company — "marketing automation" — I'd brainstorm some keyword phrases that I think people would type in related to that topic. Those might include:
marketing automation tools
how to use marketing automation software
what is marketing automation?
how to tell if I need marketing automation software
lead nurturing
email marketing automation
top automation tools
And so on and so on. The point of this step isn't to come up with your final list of keyword phrases. You just want to end up with a brain dump of phrases you think potential customers might use to search for content related to that particular topic bucket. We'll narrow the lists down later in the process so you don't have something too unwieldy.
Although more and more keywords are getting encrypted by Google every day, another smart way to come up with keyword ideas is to figure out which keywords your website is already getting found for. To do this, you'll need website analytics software like Google Analytics or HubSpot's Sources report, available in the Traffic Analytics tool . Drill down into your website's traffic sources, and sift through your organic search traffic bucket to identify the keywords people are using to arrive at your site.
Repeat this exercise for as many topic buckets as you have. And remember, if you're having trouble coming up with relevant search terms, you can always head on over to your customer-facing colleagues — those who are in Sales or Service and ask them what types of terms their prospects and customers use, or common questions they have. Those are often great starting points for keyword research.
Here at HubSpot , we use the Search Insights Report in this part of the process. This template is designed to help you do the same and bucket your keywords into topic clusters, analyze MSV, and inform your editorial calendar and strategy.
Featured Resource: Search Insights Report Template
Download the Template
Step 3: Understand How Intent Affects Keyword Research and Analyze Accordingly.
Like I said in the previous section, user intent is now one of the most pivotal factors in your ability to rank well on search engines like Google. Today, it's more important that your web page addresses the problem a searcher intended to solve than simply carries the keyword the searcher used. So, how does this affect the keyword research you do?
It's easy to take keywords for face value, and unfortunately, keywords can have many different meanings beneath the surface. Because the intent behind a search is so important to your ranking potential, you need to be extra-careful about how you interpret the keywords you target.
Let's say, for example, you're researching the keyword "how to start a blog" for an article you want to create. "Blog" can mean a blog post or the blog website itself, and what a searcher's intent is behind that keyword will influence the direction of your article. Does the searcher want to learn how to start an individual blog post? Or do they want to know how to actually launch a website domain for the purposes of blogging? If your content strategy is only targeting people interested in the latter, you'll need to make sure of the keyword's intent before committing to it.
To verify what a user's intent is in a keyword, it's a good idea to simply enter this keyword into a search engine yourself, and see what types of results come up. Make sure the type of content Google is closely related to what you'd intend to create for the keyword.
Step 4: Research related search terms.
This is a creative step you may have already thought of when doing keyword research. If not, it's a great way to fill out those lists.
If you're struggling to think of more keywords people might be searching about a specific topic, take a look at the related search terms that appear when you plug in a keyword into Google. When you type in your phrase and scroll to the bottom of Google's results, you'll notice some suggestions for searches related to your original input. These keywords can spark ideas for other keywords you may want to take into consideration.
Want a bonus? Type in some of those related search terms and look at their related search terms.
Step 5: Use keyword research tools to your advantage.
Keyword research and SEO tools can help you come up with more keyword ideas based on exact match keywords and phrase match keywords based on the ideas you've generated up to this point. Some of the most popular ones include:
Ubersuggest
Free Keyword Research Tool
Google Keyword Planner
Keywords Everywhere
KeywordTool.io
Complete SEO Starter Pack
Featured resource, how to find and choose keywords for your website.
Once you have an idea of the keywords that you want to rank for, now it's time to refine your list based on the best ones for your strategy. Here's how:
Step 1. Use Google Keyword Planner to cut down your keyword list.
In Google's Keyword Planner , you can get search volume and traffic estimates for keywords you're considering. Then, take the information you learn from Keyword Planner and use Google Trends to fill in some blanks.
Use the Keyword Planner to flag any terms on your list that have way too little (or way too much) search volume, and don't help you maintain a healthy mix like we talked about above. But before you delete anything, check out their trend history and projections in Google Trends. You can see whether, say, some low-volume terms might actually be something you should invest in now — and reap the benefits for later.
Or perhaps you're just looking at a list of terms that is way too unwieldy, and you have to narrow it down somehow ... Google Trends can help you determine which terms are trending upward, and are therefore worth more of your focus.
Step 2: Prioritize low-hanging fruit.
What we mean by prioritizing low-hanging fruit is to prioritize keywords that you have a chance of ranking for based on your website's authority.
Large companies typically go after high search volume keywords, and since these brands are well established already, Google typically rewards them with authority over many topics.
You can also consider keywords that have little competition. Keywords that don't already have multiple articles battling for the highest rank can afford you the spot by default — if there's no one else trying to claim it.
Step 3: Check the monthly search volume (MSV) for keywords you've chosen.
You want to write content around what people want to discover, and checking MSV can help you do just that.
Monthly search volume is the number of times a search query or keyword is entered into search engines each monthly. Tools like searchvolume.io or Google Trends can help you find out the most searched keywords over related keyword clusters for free.
Step 4: Factor in SERP features as you choose keywords.
There's several SERP feature snippets that Google will highlight if used correctly. An easy way to find out about them is to look up the keywords of your choosing and see what the first result looks like. But for a quick overview of the types of SERP featured snippets, we'll summarize what they are here.
Image Packs
Image packs are search results displayed as a horizontal row of images that appear in an organic position. If there's an image pack, you should write an image-heavy post to win placement in it.
Paragraph Snippets
Featured snippets, or paragraph snippets, are short snippets of text that appear at the top of Google search results for quick answers to common search queries. Understanding the searcher's intent and providing succinct, concise answers can help in winning the placement.
List Snippets
List snippets, or listicles, are snippets made for posts outlining steps to do something from start to finish — often for "How To" searches. Making posts with direct, clear instructions and formatting can assist in winning this placement.
Video Snippets
Video snippets are short videos that Google will display at the top of a search query page in place of text featured snippets. Posting a video on both YouTube and your website can help you win this placement if tagged in the targeted keywords people are searching for.
Step 5: Check for a mix of head terms and long-tail keywords in each bucket.
Head terms are keyword phrases that are generally shorter and more generic — they're typically just one to three words in length, depending on who you talk to. Long-tail keywords , on the other hand, are longer keyword phrases usually containing three or more words.
It's important to check that you have a mix of head terms and long-tail terms because it'll give you a keyword strategy that's well balanced with long-term goals and short-term wins. That's because head terms are generally searched more frequently, making them often (not always, but often) much more competitive and harder to rank for than long-tail terms. Think about it: Without even looking up search volume or difficulty, which of the following terms do you think would be harder to rank for?
how to write a great blog post
If you answered #2, you're absolutely right. But don't get discouraged. While head terms generally boast the most search volume (meaning greater potential to send you traffic), frankly, the traffic you'll get from the term "how to write a great blog post" is usually more desirable.
Because someone who is looking for something that specific is probably a much more qualified searcher for your product or service (presuming you're in the blogging space) than someone looking for something really generic. And because long-tail keywords tend to be more specific, it's usually easier to tell what people who search for those keywords are really looking for. Someone searching for the head term "blogging," on the other hand, could be searching it for a whole host of reasons unrelated to your business.
So check your keyword lists to make sure you have a healthy mix of head terms and long-tail keywords. You definitely want some quick wins that long-tail keywords will afford you, but you should also try to chip away at more difficult head terms over the long haul.
Step 6: See how competitors are ranking for these keywords.
Just because your competitor is doing something doesn't mean you need to. The same goes for keywords. Just because a keyword is important to your competitor, doesn't mean it's important to you. However, understanding what keywords your competitors are trying to rank for is a great way to help you give your list of keywords another evaluation.
If your competitor is ranking for certain keywords that are on your list, too, it definitely makes sense to work on improving your ranking for those. However, don't ignore the ones your competitors don't seem to care about. This could be a great opportunity for you to own market share on important terms, too.
Understanding the balance of terms that might be a little more difficult due to competition, versus those terms that are a little more realistic, will help you maintain a similar balance that the mix of long-tail and head terms allows. Remember, the goal is to end up with a list of keywords that provide some quick wins but also helps you make progress toward bigger, more challenging SEO goals.
How do you figure out what keywords your competitors are ranking for, you ask? Aside from manually searching for keywords in an incognito browser and seeing what positions your competitors are in, Arel="noopener" target="_blank" hrefs allows you to run a number of free reports that show you the top keywords for the domain you enter. This is a quick way to get a sense of the types of terms your competitors are ranking for.
Best Keywords for SEO
Understand that there's no "best" keywords, just those that are highly searched by your audience. With this in mind, it's up to you to craft a strategy that will help you rank pages and drive traffic.
The best keywords for your SEO strategy will take into account relevance, authority, and volume. You want to find highly searched keywords that you can reasonably compete for based on:
The level of competition you're up against.
Your ability to produce content that exceeds in quality what's currently ranking.
And You've Got the Right Keywords for Your Website SEO
You now have a list of keywords that'll help you focus on the right topics for your business, and get you some short-term and long-term gains.
Be sure to re-evaluate these keywords every few months — once a quarter is a good benchmark, but some businesses like to do it even more often than that. As you gain even more authority in the SERPs, you'll find that you can add more and more keywords to your lists to tackle as you work on maintaining your current presence, and then growing in new areas on top of that.
Editor's note: This post was originally published in May 2019 and has been updated for comprehensiveness.
Don't forget to share this post!
Related articles.
The 12 Best Keyword Research Tools to Find the Right Keywords for SEO
Finding the Best Search Terms for Your Business: 10 Tools and Tips
6 Ways That Nonprofits Can Improve Their Keyword Research
How to Figure Out What Keywords Your Potential Customers are Using
The Definition of a Long-Tail Keyword [In Under 100 Words]
Keyword Research 101: How to Discover New Keywords for Your Business
51 Ridiculous Keywords Google Won't Let Me Track Anymore
How to Use Keyword Tools to Brainstorm Blog Topics [Quick Tip]
Is 2013 the Year Marketers Lose Keyword Research?
7 Keyword Research Mistakes That Stifle Your SEO Strategy
Discover opportunity for growth in your keyword strategy with this easy-to-use template.

Looking for insightful blog posts on content writing, and SEO copywriting? You will find them on Credible Content Blog. Updated almost daily. Fresh, unique perspective.
How to do keyword research before beginning to write content.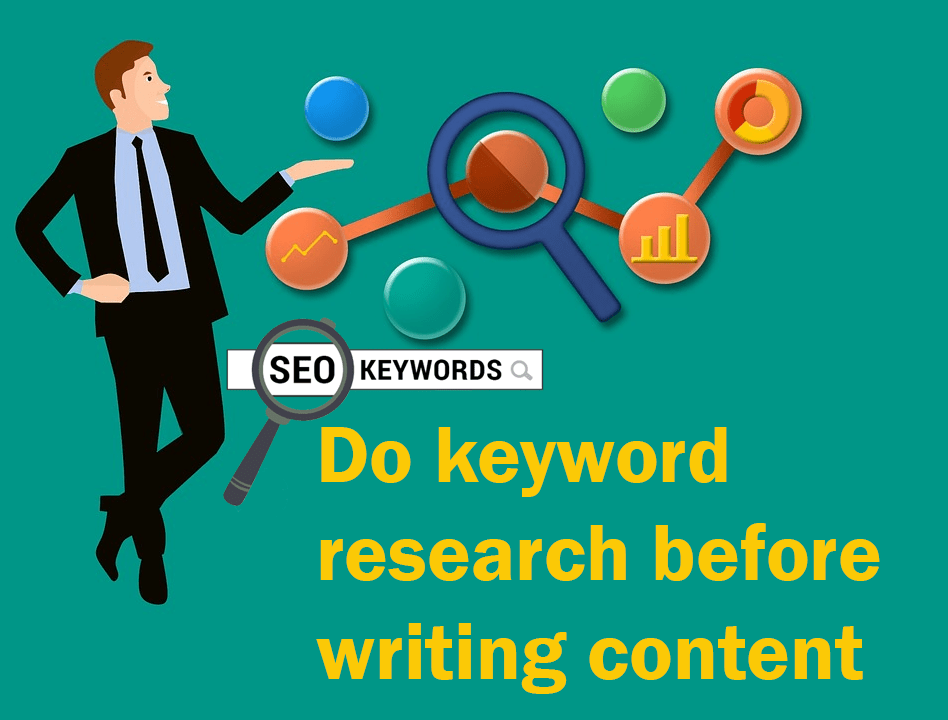 Do keyword research before writing content
Although many content marketers and SEO experts advise you not to obsess about keywords when writing content, keywords matter. Ignore your keywords for a few weeks, publish content, and just see the results.
Why is keyword research important for SEO content writing?
I have written a complete blog post on the importance of keyword research before writing content .
It's important to prepare a list of keywords because then you know what language to use when writing content for your website. The list of keywords also helps you stay focused and stick to the topic.
Take for example the current topic of this blog post. It is not about the importance of keywords, but how to do keyword research.
So, although, I have slightly touched upon the point of how important it is to research your keywords for SEO content writing, I know that my main topic is about "how to do keyword research before writing content". This helps me decide where to focus more and where to focus less. If nothing else, this should be one of the most important reasons for you to prepare a list of keywords before beginning to write content.
Knowing the keywords also helps you use the right language – the language used by your prospective customers and clients. If you don't speak their language, they don't understand you, and frankly, neither do you understand them. Knowing the keywords will enable you to know how they talk about your product or service and what they are actually looking for.
How to do keyword research for effective SEO content writing
It's been more than a decade since SEO became mainstream and people began to recognize the connection between content writing and SEO but still, when it comes to researching keywords, they go on gut feeling and what they think the keywords should be.
Although you know the main keywords, unless you use proper tools, it is very difficult to know exactly what keywords and search terms your target customers and clients are using.
The Google search engine is the most convenient and easiest keyword research tool. There are two ways you can find out what people are looking for pertaining to a subject.
Suppose you want to write something on improving life. You go to google.com and type "improving life" and don't press enter. I get the following search hints from Google:
improving life improving life through knowledge of science improving lifestyle improving life quality improving life quotes improving life expectancy
Then you press enter and you come across lots of links talking about improving life. At the bottom of the search results, Google also shows you searches related to "improving life"
how to improve your life quality how to improve your lifestyle how to improve your life in 7 days 100 ways to improve your life how to improve yourself everyday daily habits to improve life
… and so on.
If you want to delve further, try "improving lifestyle" and go through the same cycle of suggestions given by Google.
These suggestions are not just random suggestions. These are the search terms being used by people who are looking for information related to "improving life".
Similarly, you can choose one of your major keywords and start typing in Google and observe what suggestions the search engine comes up with.
Remember that it is very difficult to improve your search engine rankings for single-word keywords or highly competitive keywords. But, it is easier to improve your rankings for longer keywords, less competitive keywords.
Talking about longtail keywords, you may like to read How to incorporate longtail keywords into content writing .
Google Keyword Planner
By now many people are aware of this free tool. It is basically an AdWords ad-on and personally I feel it acts more to encourage you to include maximum number of keywords while creating your AdWords campaign than to give you the most objective picture of the keywords you must be targeting. Use your own discretion. You don't have to blindly follow all the suggestions made by the Google keyword planner.
To generate keyword suggestions, you can either supply the keyword planner with a list of initial keywords or you can simply type in your website URL and the keyword tool will tell you which keywords you should use to optimize your content.
In the above screenshot image, in the Google Keyword planner, I have used the keyword "content writing services" and the keyword planner has given me some suggestions.
I have omitted the monetary value (how much people are bidding for these keywords) of individual keywords because it doesn't concern here, what you need to focus on is the keyword and the "competition" it has. If possible, focus on the "Low" and "Medium" competition keywords.
Again, you can also use a combination of the Google keyword planner and the simple Google search engine technique that I have mentioned above.
Google Analytics
Although Google analytics doesn't tell you the keywords you should target before starting to write your content, it can give you a glimpse of the keywords that bring traffic to your website. This means, if you are getting traffic for all the wrong reasons, you may like to change your content orientation to target the right keywords.
Niche websites and blogs
Does your profession have niche websites and blogs publishing plenty of content on subjects related to your profession?
Prepare a list of niche websites and blogs that publish lots of content around your profession and observe what topics they are covering. Even a list of 20-30 topics will give you a fair idea of the keywords they are covering. You don't need to cover exactly those keywords, but you can create various combinations before you start writing your own content.
Suppose you want to write workout related content and you choose the website health.com.
In your browser, in the URL bar, type "site:health.com workout" (you don't need to use inverted commas and make sure there is no space between site: and the name of the website), and press enter.
This will give you all the search results pertaining to "workout" on the website health.com. You can get scores of keyword ideas from the content they have published.
Premium keyword analysis tools
For some time, I have been using Serpstat . Another tool I prefer is Longtail Pro. Here is a review of this tool that I wrote some time back.
Concluding remarks
Frankly, for doing keyword research before writing content, my all-time favourite tool remains google.com. It is no-nonsense. It doesn't push keywords in front of you. It exactly tells you what search terms people are using to find similar content or related content. Whatever is your choice, little bit of keyword research before starting to write your content will give you a solid direction and keep you focused. It will also help you publish content your target audience really needs.
Related posts:
How do I find the right keywords for writing SEO content?
Don't obsess over SEO as long as you're delivering meaningful content
Is it fine to copy someone else's content?
Leave a Reply Cancel reply
You must be logged in to post a comment.