5 Brain-Based Vocabulary Activities for the Secondary Classroom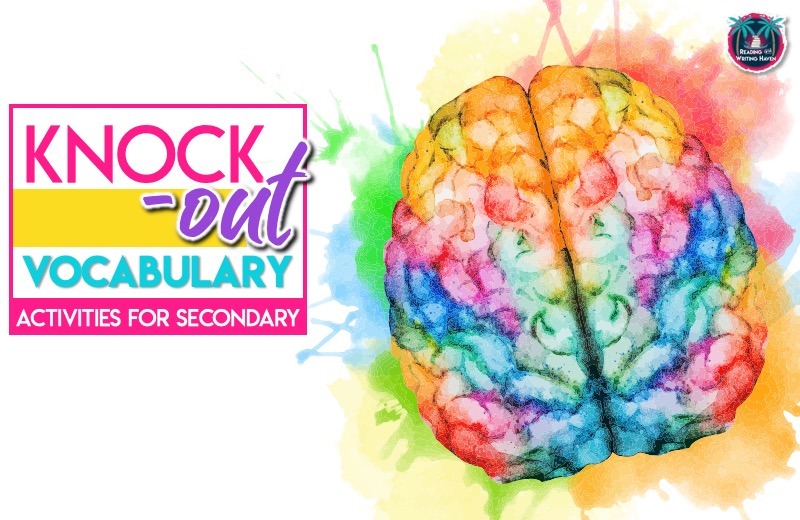 Trying to find some new practice activities for your existing vocabulary units? These brain-based vocabulary approaches are unique — perhaps just what you need. 
Do your students smile at you when you begin a vocabulary lesson? Do they act interested or ask questions? Are they willing to try using the words in their own speaking and writing? Over the years, I've noticed that when I'm "on" with my vocabulary instruction, my students are, too. They're into it, learning, and motivated. In contrast, when I rush through vocabulary instruction because of time constraints, lack of preparation, or simply lack of enthusiasm, my students can read me like an open book.
Previously, I wrote about increasing vocabulary retention in the secondary classroom. Retention is ultimately the goal of vocabulary instruction, but in order to get there, teachers need to differentiate their instruction and practice activities to reach all types of learners, which includes adding variety through learning styles and critical thinking levels. While I provided a few ideas regarding how students can interact with vocabulary words in the last post, I'd like to get more specific and explore several unique and creative avenues that teachers can incorporate into their curriculums. I teach ELA, but these brain-based vocabulary ideas can apply to word lists from any content area.
BRAIN-BASED VOCABULARY LEARNING
3 truths and a lie.
Games are fun. If your classroom culture calls for games, engagement, and student-directed learning, try out 3 truths and a lie. The best part about this game (other than the fact that it's enjoyable) is that students create it. Don't get me wrong…I LOVE making games to use my classroom . Yet, vocabulary is a perfect vehicle for students to be in charge of their learning, to create something meaningful.
Put students in charge.
I simply ask them to select a word from their list and then to write down four statements about that word. I encourage them to think about the word's part of speech, the definition, related and unrelated words, associations they may have, and the word's personality. One of the statements they write should be a lie.
Here's an example:
Ubiquitous is kind of like the plague. Even if you don't like it, you can't get rid of it.
Ubiquitous is an adverb.
Ubiquitous is cousins with the words "pervasive" and "universal."
If cockroaches were ubiquitous, I'd move to Mars.
Your students can get as creative (or as simplistic) as they want with their sentences. After creating them, collect the statements, and put students in small groups. Have them discuss the words and statements to try to identify the lie ( in the example above, the lie is #2 ). If you're concerned about the accuracy of your students' sentences and want to avoid unnecessary confusion, read through them first and have students work in groups to discuss them the next day.
Why this works: 
1. Students are doing the thinking.
2. It can be straightforward (recall) or higher-order thinking (analytical), so it's differentiated by nature.
3. It's engaging.
4. Students will remember many of the lies and the truths, so it will help them to retain the word meanings longer.
Bumper Words
Bumper words is a categorizing activity that helps students to learn the relationships between words on their list. If you plan to use a bumper words activity, keep that in mind when selecting your word list so that it's easier to create the assignment. Here's how it works. 
Teacher-Directed
You (the teacher) group the words into categories. You can make this into a worksheet or a graphic organizer, or you can just write them on the board to use as a class activity. Another option is to create a manipulative for small groups or station use. When you put the words into groups (of 3 to 5 is best), all of the words should relate  except for one . The students' job is to figure out which word is  not related, and they  bump it to the next word group. It's a chain effect. Here's an example:
As you can see, in the first group of words, abase, demean, and humiliate can all be related, but extol does not fit. So, it gets bumped to group two, where students look for another ill-fitting word that is then bumped to group 3, and so on. When creating this activity, you can use words that are  not on your vocabulary list to complement the ones that are.
Student-Directed
Again, if you want to ask your students to think more critically about their words, you can ask  them to create a bumper words chain using all or some of the words on their list. This works well as a group assignment. Students could create their bumper words combinations on a piece of easel paper or large poster board, and then groups can rotate around the room to try to solve each other's puzzles. If you choose to have students create their own examples, it would be beneficial to show them how to make one by modeling it together or analyzing an existing example first.
1. Students are thinking about the words and how they relate to other  words, thereby making associations – great for brain-based vocabulary learning!
2. Once again, this activity can be differentiated by ability level.
3. It engages students in meaningful interaction with their words.
4. It's unique…your students probably haven't heard of this one before. Ride the novelty wave.  
Personify a Word Using Social Media
Because social media is such a pervasive aspect of twenty-first century learning, I'm always looking for healthy ways to incorporate it in my classroom. One of the things I love about teaching vocabulary is that it can be creative. Words can be given personalities based on their meaning. I often ask students to personify a word in order to get them to think about it differently.
Word Personalities
Here are four of my favorite assignments that include word personalities using social media:
Facebook : Have students create a Facebook poster based on one of the words on their list.
Twitter : Ask students to create a Twitter profile and feed for a word.
Instagram : Students can create a scrapbook or Instagram posts for their word.
Pinterest :   Give students the task of creating a Pinterest profile for a word, including a list of boards and pins that would relate to that word.
When I give students assignments like these, I find it's beneficial to allow them to choose a word  they want to learn  after discussing what they will do with it. I always encourage students to select a  new word…one they either have never heard of, or one they have heard of but cannot explain. By discussing the task before selecting the word, students will be able to choose a word they  want to use to complete the assignment, and ownership is key when it comes to creativity.
Some struggling readers and writers might be overwhelmed if we ask them to select any word they want, so it's a great differentiation / scaffolding option to have a list of suggestions prepared.
Why this works:
1. In order to do any of these assignments WELL, students must think  deeply and  meaningfully about the word.
2. Students will take it upon themselves to analyze the social media outlet more closely than they have in the past. What text structures does it have? What is the common language and culture of the site? These questions must be studied and answered before creating a product.
3. It hooks students by allowing them to utilize their creativity and social natures to learn about vocabulary.
4. It is easy to incorporate technology. While students can create a poster like the one above, they could also use digital platforms to complete the assignment.  
Pictures, Short Films, & Music
A fun way to incorporate writing into your brain-based vocabulary instruction is through the use of pictures, short films, and music. They can all be used similarly for this assignment. Although numerous options exist, these three ideas are a good place to start:
Student Research
1. Simply ask students to do some research and find a certain number of pictures, short films, or songs that relate to words on their vocabulary list. You could have them focus specifically on one word and find a picture, a short film, and a song that relates to it, or you could ask them to choose ten words off the list and find one connection for each word. Either way, students are building onto existing knowledge about a word and using critical thinking skills to make meaningful connections. I like to have my students write a short paragraph (3-5 sentences) explaining their connections to the word.
Bell Ringers
Another way to use these elements is to incorporate them as bell ringers. Each day, begin the class by projecting an image, showing a short film, or playing a song for students. After watching or listening, ask students to make connections between the artwork and words on their vocabulary list. To elicit more participation, I have my students write their thoughts first, then talk with a partner, and finally share with the class.
Give your students a sheet of small images (I like to using small pictures they can color), and tell them to match each picture to a word on their vocabulary list. They can then explain in a few short sentences why each picture and word relate. Simple but effective. Here is a resource you can use for any list.
1. Music, movies, and pictures are embedded in our culture. Students appreciate learning opportunities that incorporate media relevant to their lives.
2. This assignment is a simple way to differentiate by learning styles. It appeals to students who are musical and visual by nature.
3. Once again, forming connections to vocabulary words will help students remember them longer.
4. It can be scaffolded for students on various scales of the literacy ladder.  
I use mind maps as choice assignments throughout the year with various aspects of my curriculum. Mind maps are excellent brain-based vocabulary . activities that help students retain the definition of a word instead of memorizing it for a quiz and forgetting it.
When I assign mind maps in relation to vocabulary words, I generally have students select one word from our list instead of several because the connections will be more meaningful for them.
A good tip is to first ask students to circle any words on their vocabulary list that they cannot define on the spot — in that moment. Afterward, have them choose one word they want to study more intentionally, and then introduce the mind map assignment. If you give them the specifics of the assignment  first, they might be more likely to select an "easy" word from the list.
I like to project example mind maps (you can easily find some by googling the term "vocabulary mind maps"). Together, we analyze the structure, design, and content of the example maps to determine students' options. We also talk about my expectations (what's acceptable and what's not). In this way, we essentially develop a student-generated rubric on the spot. Bonus.
What can students incorporate in their mind maps? I encourage mine to use the basics (relate it to synonyms, antonyms, and examples), but I also ask them to stretch their imaginations to incorporate visual components, categories related to the word, colors that symbolize the word, and other symbolic elements.
1. Research shows that mind maps are brain-based learning activities.
2. Thinking symbolically about a word helps students to deepen their understanding of it.
3. Mind maps require students to engage with a word meaningfully from different angles for an extended period of time.
4. It combines right-brain creative style learning with left-brain logic style learning, resulting in a powerful and memorable experience.  
Inspired and wanting more vocabulary ideas? Read this sister post in which I discuss  five more of my favorite, brain-based vocabulary practice activities for the secondary classroom .
Grab a Free Template!
You might find this free, editable vocabulary template to be helpful in getting started.
Before using any of these brain-based vocabulary strategies in your classroom, you will need to establish a solid list of words. For some inspiration regarding how to strategically and effectively select word lists, click on over to Lauralee at Language Arts Classroom . She has some insights to share with you!
RELATED RESOURCE:
Subscribe to our mailing list to receive updates about new blog posts and teaching resources!
Reading and Writing Haven will use the information you provide on this form to be in touch with you and to provide updates and marketing. Please let us know all the ways you would like to hear from us:
You can change your mind at any time by clicking the unsubscribe link in the footer of any email you receive from us, or by contacting us at [email protected] . We will treat your information with respect. For more information about our privacy practices please visit our website. By clicking below, you agree that we may process your information in accordance with these terms.
We use Mailchimp as our marketing platform. By clicking below to subscribe, you acknowledge that your information will be transferred to Mailchimp for processing. Learn more about Mailchimp's privacy practices here.
Melissa Kruse
An avid reader and writer, I've had the privilege of teaching English for over a decade and am now an instructional coach. I have degrees in English, Curriculum & Instruction, and Reading as well as a reading specialist certification. In my free time, I enjoy loving on my kids, deconstructing sentences, analyzing literature, making learning fun, working out, and drinking a good cup of coffee.
Teaching Literary Genres: Lesson Planning Ideas
Do teachers have their summers off, you may also like, proven ways to make your teaching stick and..., using student-created graphic organizers to elevate learning, how specialized graphic organizers can encourage critical thinking, 3 ways to inspire students with eye-catching graphic..., modeling with graphic organizers: a surefire way to..., 4 essential purposes that drive strong vocabulary instruction, 8 ways to make student-led discussions more productive, how to use text sets to build background..., 10 simple ways to engage quiet students, what is meaningful homework, how to get started with sketchnotes in the..., how to create classroom norms with students, 12 ways to build a virtual classroom community, how to structure a powerful, meaningful vocabulary program, how to select the best novels for your....
This website uses cookies to improve your experience. We'll assume you're ok with this, but you can opt-out if you wish. Accept Read More
Grades 6-12
School Leaders
Don't forget to enter today's giveaway! Prizes change daily 🎁.
30 Meaningful Vocabulary Activities for Every Grade
These activities are the definition of fun!
Learning new words is like adding to your writing toolbox. Your writing becomes so much more interesting and engaging when you have more tools available. Check out these fun and engaging vocabulary activities for kids in grades K-12, and give your students the equipment they need to build their wordsmith skills.
1. Write vocabulary short stories
Using vocabulary words in writing shows mastery. Challenge your students to use all of their vocabulary words in an original short story. Allow students to pair up and share their stories with a partner.
Learn more: Lucky Little Learners 
2. Put your students in the "hot seat"
Divide your class into two teams. Choose one student from one team to go to the front of the room and sit in a chair facing the class with his/her back to the board. This person is "on the spot." Place a word on the board so everyone can see it except the person in the chair. One at a time, team members give the person a clue about the mystery word. If the word is guessed before two minutes are up, the team gets a point and play turns to the other team.
Learn more: On the Spot/Upper Elementary Snapshots
3. Match up words and definitions
Download these vocabulary words and matching definitions. Distribute one card to each student (either a word or a definition). Allow students to circulate in the room and find their "match." Switch cards and repeat.
Learn more: Teach Starter
4. Sketch up some word maps
Creating word maps from vocabulary words encourages students to find the relationships between the vocabulary word and other words. Have them include words, pictures, examples, real-world connections, definitions, descriptive words, etc.
Learn more: Southern Fried Teachin'
5. Create Post-it stations
Post vocabulary words around the room, then have students circulate and write an original sentence using that word on a sticky note. Follow along and make sure students use the words correctly.
Learn more: Now Spark Creativity
6. Play a game of Pop!
Write vocabulary words on cards or craft sticks and place in a paper bag. Write the word Pop! on three to five cards or sticks and add them to the bag as well. To play, students will take turns drawing cards or sticks out of the bag, reading the word and giving the definition. If they correctly define the word, they keep the card or stick. If not, it goes back in the bag. If they pull the word Pop! they must return all their cards or sticks to the bag and start over. The player with the most cards or sticks wins.
Learn more: Pop/Not So Wimpy Teacher
7. Take a gallery walk
Hang six to eight large sheets of chart paper in various places around the room. On each sheet, write one vocabulary word. Have students work in small groups, rotating between stations. At each station, ask students to come up with a different, original way to use each word. Continue the activity until all students have visited every station.
Learn more: Teachwriting.org
8. Create vocabulary strips
Have students draw a diagonal line across an index card. On the top half, have them write the vocabulary word and definition. On the bottom half, have them draw a picture of the word and use it in a sentence. Cards can be joined together in a strip for easy review.
Learn more: Teaching Fourth
9. Play a round of Pictionary
This fun activity requires students to draw a picture for each word to create their own visual dictionary. When students create their own visual representations, they develop an association with the word that they will be able to tap into when needed.
Learn more: Pictionary/Lit in Focus
10. Make a word map
Word maps help deepen understanding of a vocab word by relating it to other words and concepts students already know.
Learn more: Word Map/Upper Elementary Snapshots
11. Use the Frayer model
Frayer models are a popular way to learn new words and concepts. Kids define the word in their own terms, then list facts and characteristics, examples, and non-examples.
12. Draw vocabulary Sketchnotes
Kids and teachers love Sketchnotes ! Rather than writing out definitions, have students draw a sketch that sums up each word instead. It's a lot more fun and gives kids an image for visual association and to help remember the meanings.
13. Bump words along
Group vocab words together with a few other words with similar meanings and one that's an antonym. Students identify the antonym and "bump" it to the next box, filling in the next group of words. They continue until the worksheet is full.
Learn more: Reading and Writing Haven
14. Post a graffiti wall
Think of a vocabulary graffiti wall like a collaborative word wall. In the classroom, post the words on the wall and have kids add sticky notes to illustrate the term (they can use words or pictures). Online, try a tool like Padlet or Google Slides.
Learn more: Digging Deeper
15. Match words to describe character
This is a terrific way to practice vocab words pulled from books you're reading. Ask students to use various words to describe the different characters in the book and their feelings, thoughts, and actions.
Learn more: The Sassy Apple
16. Fill in words from A to Z
This vocabulary game is fun and challenging, and you can play it at any age. Choose a word, then challenge kids to come up with related words for as many letters as possible. These could be synonyms, antonyms, examples, and more. Trickier letters are worth more points!
Learn more: A to Z/Lit in Focus
17. Try Flip for vocabulary activities
Forever a Teacher at Heart/Twitter
Are you on the Flip (formerly Flipgrid) bandwagon yet? It's perfect for vocabulary activities! Have kids record a quick video for each word, using their creativity to make it fun and meaningful.
18. Battle it out in Vocabulary Jeopardy
Good vocabulary activities encourage more than just memorization of definitions. That's why we like this Jeopardy game idea. It explores synonyms and antonyms and how words are used in real sentences.
Learn more: Not So Wimpy Teacher
19. Use RAFTs to write vocabulary stories
Writing a story using vocab words is a perennial favorite, but the RAFT method gives it a new twist. Students are assigned a Role (the point of view from which they'll tell the story), an Audience, a Format, and a Topic. For instance, they might be an astronaut (Role) writing a postcard (Format) to their friends back home (Audience) about what they've seen on Mars (Topic). RAFTs are especially great for kids who claim they don't know what to write about.
Learn more: RAFT/Teachingwriting.org
20. Discover the power of words
Vocabulary words take on greater meaning when students incorporate them into their daily lives. Challenge kids to use their vocab words in conversation and writing outside the language arts classroom. Use the free printable worksheet here to help them keep track of how often they use them.
21. Create graphic organizers
Colorful organizers like these are terrific vocabulary activities. Want to go digital? Have kids make a slideshow, one slide per word. They can include the same information, but instead of drawing a picture, have them find one online that illustrates the concept.
Learn more: Graphic Organizers/Upper Elementary Snapshots
22. Focus on a Word of the Week
Give really important terms the attention they deserve. Choose a new vocab word each week, then explore it in depth day by day.
Learn more: Lit in Focus
23. Join the Million Dollar Word Club
Post a list of target vocab words. If a student uses one of the words in class (outside of vocabulary activities), they become a member of the Million Dollar Word Club! You can have them sign their name on a wall in the classroom or award a badge online. You could even develop this into a reward system for homework passes or extra credit.
Learn more: Million Dollar Words/The Sassy Apple
24. Explore shades of meaning
This is a cool idea for exploring synonyms and the slight differences that make words unique. Ask for paint sample strips at your local hardware store, or buy a clip art set . In the classroom, use these paint strips to make crafts for a bulletin board. Working in a virtual environment? Have kids print clip art strips at home or use the images to make slides or digital worksheets.
Learn more: Around the Kampfire
25. Personify a word with social media
This is one of those vocabulary activities kids will want to do over and over again! Assign each student a word and have them create a fake Facebook, Instagram, or other social media page for it. They can draw them freehand or complete a template like these from Teachers Pay Teachers . Post the images to a shared Google slideshow so other students can use them for review.
26. Play vocabulary word Taboo
In this game, the goal is for one student to get their partner to guess the word by describing or giving examples of it. The trick? There's a list of additional words they're not allowed to use! Let other students see the card in advance to help keep the players honest. (Flash it on a whiteboard and have the guesser face away.)
Learn more: Teaching Talking
27. Roll a die for vocabulary activities
Choose a vocab word, then have the student roll a die ( these virtual dice are handy ) to see which activity they get to complete.
Learn more: Roll a Word/Lucky Little Learners
28. Write an acrostic
Write an acrostic poem for each vocab term, using the letters to determine the first word in each line. This can get really challenging when words are longer!
Learn more: Vocab Acrostic/Upper Elementary Snapshots
29. Play vocabulary board games
Everyone knows that playing games is the best way to learn! Try some of these fabulous board games with your students and watch their vocabularies grow!
Learn more: 11 Vocab Games to Make the Learning Stick
30. Become a Word Collector
This is one of those picture books that grown-up kids will enjoy as much as little ones. Use it to remind your kids that they don't need a vocabulary list to learn new words—new words are all around them. Encourage them to keep a word list or journal of their own to record new words they want to explore and use more often.
Buy it: The Word Collector by Peter Reynolds on Amazon
Reading poetry helps students expand their vocabularies. Check out these must-share poems for elementary school and middle and high school .
Plus, get all the latest teaching tips and ideas when you sign up for our free newsletters .
You Might Also Like
Just 23 Totally Perfect 4th Grade Anchor Charts
Add these beauties to your repertoire! Continue Reading
Copyright © 2023. All rights reserved. 5335 Gate Parkway, Jacksonville, FL 32256
Jump to navigation
Inside Writing
Teacher's Guides
Student Models
Writing Topics
Minilessons
Shopping Cart
Inside Grammar
Grammar Adventures
CCSS Correlations
Infographics
Get a free Grammar Adventure! Choose a single Adventure and add coupon code ADVENTURE during checkout. (All-Adventure licenses aren't included.)
Sign up or login to use the bookmarking feature.
12 Vocabulary Activities for High School
Words are power. Until you have a word for something, you can't think effectively about it. That's why every discipline has its own specialized vocabulary and why people who study the discipline must learn the vocabulary in order to be conversant.
So, vocabulary-building is as crucial in high school, college, and career as it was when students were first learning to read and write. It helps native speakers and English language learners, alike. You can use any (or all) of these creative word activities to help your students expand their vocabularies and their minds.
Four Vocabulary Builders
Building Words asks students to define prefixes, roots, and suffixes and assemble them into new words, which they define.
Understanding Context Clues teaches students strategies for understanding new terms by seeing how they are used.
Using Context Clues provides students a passage for defining terms using context.
Discovering Word Origins helps students think about how words evolve, changing meaning from language to language and context to context.
Five Usage Activities
Usage Mnemonics inspires students to discover personal memory aids for distinguishing commonly confused words.
Words in the Wild sends students to search the Internet for examples of correct usage of commonly confused words.
Spell the Right Word requires one partner to use a commonly confused word correctly in a sentence and the other to spell the right form of the word.
Would You Rather? has one partner use commonly confused word pairs to provide the other partner with options to choose from.
Malapropism Mania! asks students to read humorous malapropisms and define both the incorrect word and the word that is meant.
Three Idiom Explorations
Idiom Safari helps students find idioms "in the wild," as they are currently used on the Internet.
Literal Idioms asks students to learn the figurative meaning of idioms and then use them literally .
Pun-ishing Idioms teaches your students ways to create groaner jokes worthy of Dad.
Teacher Support:
Click to find out more about this resource.
Standards Correlations:
The State Standards provide a way to evaluate your students' performance.
LAFS.1112.L.3.4
110.38.c.2.B
110.39.c.2.B
LA 12.1.5.a
LA 12.1.3.a
110.38.c.2.A
110.39.c.2.A
LA 12.1.5.e
110.38.c.8.F
110.39.c.8.F
LAFS.1112.L.3.5
LA 12.1.5.d
110.38.c.8.E
110.39.c.8.E
Related Resources
All resources.
Seeing Emotion in Facial Expressions
Seeing Emotions in Body Language
Calming Down with Deep Pressure
Teaching the Whole Child (in a Fragmented World)
Developing Social-Emotional Skills Through Literature
Inquire Online Middle School Classroom Set
Inquire Online Middle School Teacher's Guide
The Science Writer
The Social Studies Writer
The Math Writer
All Write SkillsBook
All Write SkillsBook Teacher's Edition
Teaching secondary
Beginner A1
Vocabulary activities
Have you tried these practical activities to help students with vocabulary learning? There's something for all ages and levels.
Spot the vocabulary
Collocation pelmanism
Quick revision games
Word association recitation
The revision box
The comparison game
Stop the bus
Adopt a word
Lexical threads
The memory game
Making it up - Phrasal verb stories
Poetic introductions / Picture game
Definitions - Get rid of it
Word guessing games
Wall dictionary
Same, opposite or different dictation
Vocabulary box
Vocabulary phonemic revision activity
Vocabulary self-study activities
Thanks for sharing…
Thanks for sharing vocabulary activities! I mostly use hot seat and vocabulary box in teaching, in my point of view these activities help students to remember words easily.
Log in or register to post comments
It is very informative
Thanks for the positive feedback,
TeachingEnglish team
USEFULL TIPS!!!
1. reading a lot: reading.
1. Reading a lot: Reading everything we can get your hands on is one of the most passive and most effective ways to boost your vocabulary. 2. Keeping a thesaurus and a dictionary nearby. 3. Making Flashcards.  4. Describing our Surroundings. 5. Listening to Music. 6. Committing to learning one new word every day.
  I have taught English about three and half years but I still cannot find some suitable ways to teach lexis. Thanks to your resouces, hence I can find tons of useful methods for my further teaching.
I find them useful to have up
I find them useful to have up the sleeve and are also motivating--soo important.
Research and insight
Browse fascinating case studies, research papers, publications and books by researchers and ELT experts from around the world.
See our publications, research and insight
ELA Matters
Engaging both middle school and high school learners!
Vocabulary Activities for Secondary ELA
So how can you effectively teach vocabulary? How can you help students learn and take ownership of the unfamiliar words they encounter? Below are a few ideas Carolyn from Middle School Cafe incorporates in her class throughout the year to increase student knowledge of vocabulary.
Word of the week
Students need multiple authentic exposures to words before they become part of their regular vocabulary.
Using a variety of activities centered around 1 word for 5 days give students the exposure they need to take ownership of new words. In Word of the Week activities, students are seeing and using a new word each day for 5 days. Activities involve, defining the word, completing a Frayer model of the word, illustrating the word, writing a paragraph highlighting the meaning of the word, and more.
You'll be surprised at how many students start seeing their Words of the Week vocabulary words in their reading, in other class work and even in their other subject areas. It's awesome when students start recognizing their vocabulary words and share their excitement with you.
Word walls are a great way to keep subject area vocabulary in front of students all year.
Carolyn has a word wall with her most used ELA terms (character, plot, genres, etc…) posted, that she often references during reading or writing conferences.
She also has a smaller word wall with unit specific vocabulary (narrative, claim, research etc…) that she changes with each unit.
Word walls are most effective when they are referenced in class during instruction. Be careful to not let your word walls become stagnant bulletin boards. Keep your word wall fresh and relevant.
Word Bank Quick Writes
Give students opportunities to use vocabulary in their writing pieces. Many times during a quick write warm up activity, Carolyn will post 2 – 4 related vocabulary words on the board then ask students to incorporate them into a paragraph (Using them correctly of course!).
Even if a student can't use all of the vocabulary words posted, students are still focusing on the meaning of the words, thinking about the word and how to use it correctly. This helps them take ownership of the word – a win-win for all!
Can your students decipher the meaning of unfamiliar words? Give them the tools needed to decipher words on their own by teaching them the meaning of root words. By intentionally teaching the meanings of root words, students can more accurately determine the meaning of the unfamiliar words they encounter in their own reading.
Vocab in Pictures
Visual representations of words is another way Carolyn gets her students to learn the word beyond the definition. When students are required to draw a picture of the meaning of the word or the word in action, students are thinking about the word on a deeper level. The picture itself is something that allows them to see the word in a different way.
Often students will challenge each other to see who can draw the word in the most creative way – they make it a contest. As long as Carolyn doesn't have to be the judge of the contest, she is happy to see her students having fun and engaged in the lesson!
Related Post
Introducing the power of word choice.
How to Combine Vocabulary and Writing
Vocabulary Instruction that Makes Sense
Vignettes and Vocabulary Practice
A Simple Routine for Vocabulary at the Secondary Level
A Tech Twist for Vocabulary Instruction
vocabulary activities high school
All Formats
Resource types, all resource types, vocabulary activities high school.
Rating Count
Price (Ascending)
Price (Descending)
Most Recent
Brain-Based Vocabulary Activities for High School , Speed Dating, Game, Continuum
Vocabulary Activities for Middle and High School Students - Fun Exercises
Kwanzaa Hanukkah and Christmas Vocabulary Activities Middle and High School
FULL SEMESTER High School SAT Vocabulary with Activities , Quizzes, and Keys!
Homophones Word Retrieval/ Vocabulary Activities Middle School High School
Synonym and Antonym Vocabulary Activities - Speech for Middle & High School
Middle & High School Speech Therapy Vocabulary Activities & Graphic Organizer
High School Vocabulary Activity -The 30-Word Challenge
Vocabulary Bundle for Middle & High School English | Vocabulary Activities
Lord of the Flies Vocabulary Development Games and Activities for High School
10 Fun Vocabulary Games and Activities for your Middle or High School Classrooms
Tier 2 Vocabulary | Word Search Puzzles Activities Bundle | High School
The Great Vocabulary Project: High School Activity , Quizzes: quarter one, 9-10
Thanksgiving Middle & High School Vocabulary Context Clues Activities
Valentines Day Vocabulary Activities -Reading Comp Middle + High School English
The Great Vocabulary Project: High School Activity , Quizzes: quarter one, 11-12
Halloween Middle & High School Vocabulary Activity Worksheets BUNDLE
High School Seasonal/Holiday Vocabulary Activity Worksheets MEGA BUNDLE!
5 Vocabulary Activities for High School Students
"The Most Dangerous Game" Vocabulary Games and Activities for High School
Halloween Game - Charades in French - Fun Activity & Vocabulary List High School
"The Interlopers" by Saki Vocabulary Games and Activities for High School
"The Birds" by Daphne du Maurier Vocabulary Games and Activities for High School
"The Leap" by Louise Erdrich Vocabulary Games and Activities for High School
We're hiring
Help & FAQ
Privacy policy
Student privacy
Terms of service
Tell us what you think

Trauma-Informed Practices in Schools
Teacher well-being, cultivating diversity, equity, & inclusion, integrating technology in the classroom, social-emotional development, covid-19 resources, invest in resilience: summer toolkit, civics & resilience, all toolkits, degree programs, trauma-informed professional development, teacher licensure & certification, how to become - career information, classroom management, instructional design, lifestyle & self-care, online higher ed teaching, current events, five ways to make teaching high school vocabulary fun and interesting.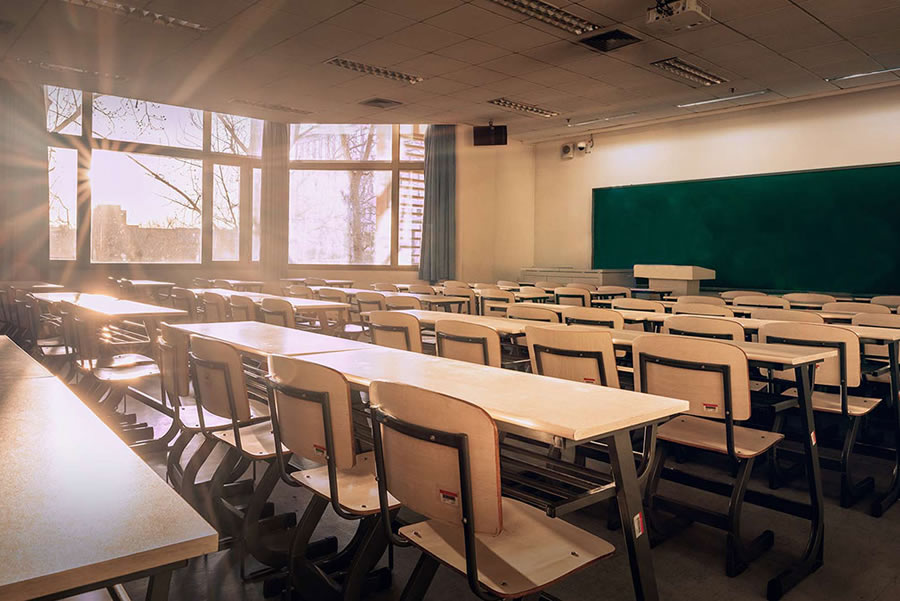 Teachers face a variety of challenges on a day-to-day basis, but perhaps their biggest challenge is helping students become successful. A struggling student or struggling group of students is often blamed on the instructor or the instructor's teaching. One way to ensure that all students experience the same levels of success is finding more innovative, engaging ways to teach in order to facilitate student participation in topics that might not be the most fun to learn. For instance, while high school vocabulary might not seem like the most interesting subject for students, learning new words and their meanings is essential to any student's education.
But how does a teacher go about engaging students in learning high school vocabulary – a subject that students may not be the most passionate about? There are a variety of different methods teachers can deploy aside from the textbook and test method. Here's a look at five high school vocabulary teaching methods that are fun, interesting and sure to engage students.
Vocabulary Bingo
After teachers put students through the typical curriculum (i.e., learn the word and what it means), it's time to engage students in fun, lighthearted activities that will help them retain the information. One such activity is vocabulary bingo. Have the students make bingo cards, placing words they just learned in the various places on the card. Then, read the definitions of the word. If the students have that word, they'll color in the box on their cards where it exists. This helps students put the definition with the word itself. Teachers can also reward students who complete bingo with prizes or extra credit points.
Word charting
The goal of teaching vocabulary is to expand a student's word knowledge. One way to do this is by encouraging students to use vocabulary words in their lives. This is where word charting comes in. Teachers can encourage students to do this outside of the classroom while they're at home. For instance, if students have just been taught the word "cacophony," which means discordant sounds, encourage them to look for real-life scenarios to use it. Have students chart when they used it to describe something in their lives. For instance, a student may drop a dish on top of another dish in the sink and use "cacophony" to describe the sound it made. Give extra credit or prizes to the students that chart the most vocabulary words over a certain time in their proper contexts.
Short stories
Another way to make teaching vocabulary more fun is to have students create a short story or screenplay using the words they've just learned. Teachers can also make this a final project or midterm project. Typically, this will go over much better than a final exam, and students will be more willing to engage and get creative with such a task, especially if a large portion of their grade depends on it.
Write songs
To piggyback off the previous point, another way for students to better retain words is to have them write songs using them. This is also a project that will get the creative juices flowing with students. Break them up into groups and have them write lyrics with their new words in context of their definitions. Be sure to also offer extra credit for students who go above and beyond just writing lyrics, such as for groups that actually put music with their songs or record them to play them back to the rest of the class. Writing poetry with newly learned words is another option that could fall within this category.
Games have proved to be a better way to engage students and help them retain information in the classroom. And one game that could apply to new vocabulary words is Pictionary. Have students divide into groups and then diagram word definitions as best as they can, as their peers attempt to guess them. Another game might consist of students acting out words in short skits for classmates to guess. Such games are fun and are sure to produce a lot of laughs as students learn new words.
You may also like to read
5 Ways to Improve Teaching High School Grammar
Four Great Programs for Teaching Financial Literacy to High School Students
Three Innovative Methods of Teaching for High School Educators
Online Resources for High School Calculus
How Teachers Can Help Prevent High School Dropouts
4 Downloadable High School Geometry Practice Worksheets
Categorized as: Tips for Teachers and Classroom Resources
Tagged as: Engaging Activities , High School (Grades: 9-12) , Language Arts
Certificates for Reading Specialist
Early Childhood Education: Resources, Theorie...
Certificates in Special Education
Search form
Learn new words to improve your vocabulary to help you communicate well in English.
Practise and improve your vocabulary by doing exercises and watching videos. In the exercises you can listen to the pronunciation of the words, and the videos help you learn and practise how to use phrasal verbs correctly.
Choose your level and decide which vocabulary topic or phrasal verbs video you want to watch.
Practising little and often is the best way to improve your vocabulary, so come back tomorrow and choose another activity to do.
A1-A2 vocabulary
Are you an elementary (CEFR level A1) or pre-intermediate (CEFR level A2) learner of English? Learn new words and practise your vocabulary. In this section you can listen to the pronunciation of the words and then do the exercises. There are worksheets too for offline practice.
B2-C1 vocabulary
Are you an upper intermediate (CEFR level B2) or advanced (CEFR level C1) learner of English? Phrasal verbs are very common in spoken English. In this section you can watch our Fast Phrasal comic-strip videos and do the exercises to learn and practise how to use phrasal verbs correctly.
Vocabulary games
Play games, have fun and improve your English vocabulary at the same time.
Sign up to our newsletter for LearnEnglish Teens
We will process your data to send you our newsletter and updates based on your consent. You can unsubscribe at any time by clicking the "unsubscribe" link at the bottom of every email. Read our privacy policy for more information.